Event

To ensure high-quality patient care and build a more effective health system, we depend on a healthy, productive, and engaged clinician workforce. But, increasingly, U.S. health care providers are burned out.
Our nation stands at a critical crossroads. Health care spending is at an all-time high, yet Americans are less healthy than peers in other high-income nations. The population is aging rapidly, and rates of chronic disease, obesity, and drug addiction are skyrocketing. We cannot reverse these trends without engaged and effective clinicians working in systems and cultures that support their career satisfaction and well-being.
Join the National Academy of Medicine on July 14 in Washington, DC as it hosts the first meeting of the Action Collaborative on Clinician Well-Being and Resilience. This public meeting provides an opportunity for the public and invited experts to provide feedback on the direction of the collaborative, and will highlight research and examples of promising approaches to promoting well-being.
The objectives of this first public meeting are to:
Introduce and generate engagement around the collective effort underway to improve well-being and reduce burnout among health care professionals
Provide an overview of the magnitude, drivers, and effects of burnout in health care professionals and systems, and discuss mitigating strategies
Present the mission and goals of the collaborative's four working groups and solicit feedback from the public:

Research, Data, and Metrics
Conceptual Model
External Factors and Workflow
Messaging and Communications
Explore promising approaches to promoting clinician well-being by highlighting innovations in medical education, individual interventions, and organizational models [space height="5″]
To learn more, please visit nam.edu/ClinicianWellBeing.
Sign up to our listserv to receive updates.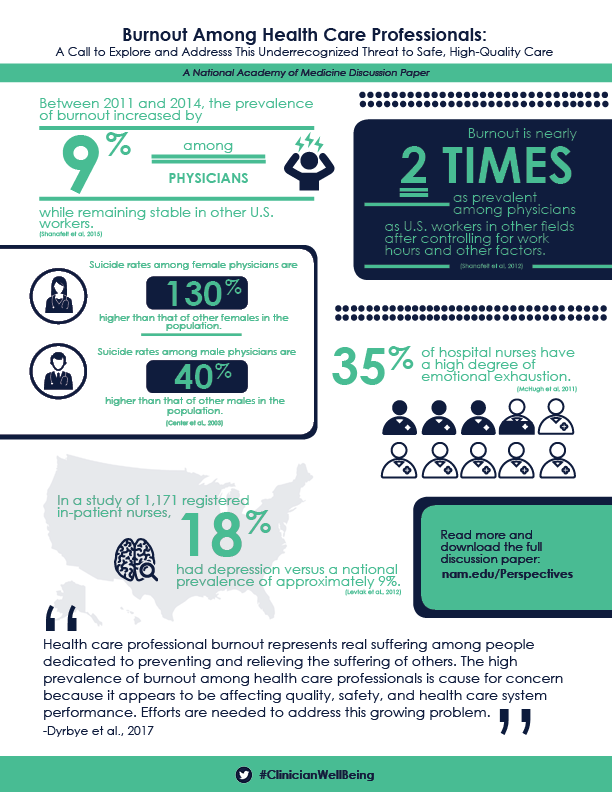 Back to Action Collaborative Homepage