Community Health Heroes
An Interview with Diane Picard

December 2017
Diane Picard is executive director of the Massachusetts Avenue Project (MAP), an organization in Buffalo, New York, that works to nurture the growth of a diverse and equitable local food system and promote local economic opportunities, access to affordable, nutritious food, and social change education.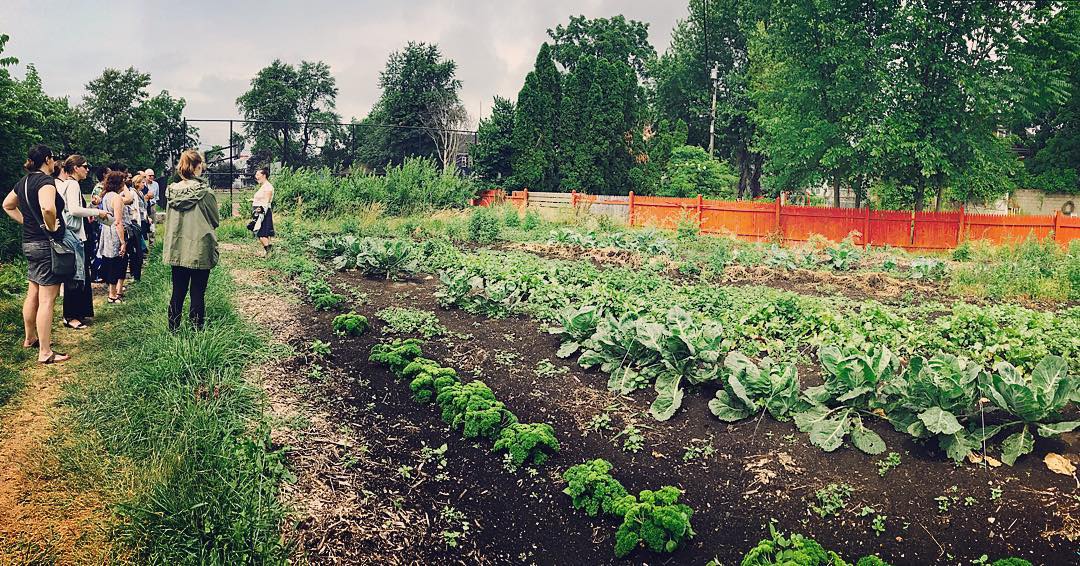 How did Massachusetts Avenue Project (MAP) get started?
In the 1990s, there was a group of residents living on the west side of Buffalo who wanted to provide some alternatives for young people in the neighborhood, because it had a lot of drug activity and little opportunities for youth. After a community needs assessment, the founders received a small grant to hire a staff member to do formalized youth programming and I was hired.  At that time, about 40 percent of the neighborhood's population was under the age of 18. Teenagers wanted jobs, but there were no jobs available.  Buffalo also had a lot of vacant land, but didn't have a clear municipal strategy for dealing with it. Then, in 2002, the last grocery store in our neighborhood closed, which left us with fast food joints and small corner stores that didn't have much fresh, healthy food.
We partnered with the University of Buffalo to do a community food assessment for us and found what we had anecdotally known, which was that folks didn't have access to fresh, affordable food. We launched our Growing Green Program in 2003 to address youth unemployment, land use, and food access and equity issues all at once.
What is MAP's focus now and how was that determined?
Our focus now is on training local youth in sustainable urban agriculture. Young people help us at our urban farm and learn about all aspects of the local food system. The food we grow is distributed through a Mobile Market program, which serves food deserts in Buffalo. Youth are trained to run those market sites, so they are providing food to their neighbors. We accept SNAP and WIC benefits, and participate in Double Up, an incentive program that encourages people to buy fruits and vegetables. We also work with young people on cooking and nutrition education, as well as leadership development and organizing around food issues in our city. Our youth have accomplished incredible things, like getting urban agriculture included in our zoning code and land use plan and holding seats on the Food Policy Council of Buffalo & Erie County.
Another program component for us is enterprise development and entrepreneurship. Using what they've learned in our program, our youth develop valued-added products like a chili starter, a salsa, and a salad dressing. Youth learn how to take an idea for a product to market and are engaged in hands-on product development, marketing, sales and inventory tracking.  They have been successful at getting their products into Wegmans, a Northeast grocery store chain, the Lexington Cooperative Market, and other food specialty stores.
How important are partnerships in doing the work that you do?
Some of the most impactful work we've done has been through partnerships. We've partnered with the University at Buffalo's Food Systems Planning and Healthy Communities Lab since 2002.  They've done a lot of community-based research around food equity, race equity, and food access that informs our mobile market locations. We also partner with community organizations that have an audience who could be customers for our mobile markets. Every spring, we invite community organizations to apply to be a mobile market site.
We're also part of the Crossroads Collective, which is a group of 10 grassroots organizations that have experience in a wide range of base-building and organizing around affordable housing, food, and labor. Additionally, we work with Grassroots Gardens WNY, our umbrella organization for community gardens in Buffalo, for about 15 years.
More recently, we started working with the business sector. Besides Wegmans, we've worked with several local restaurants that sell our products, as well as Rich Products, a food products company headquartered in Buffalo that has a green sustainability effort. RICH Products and Wegmans both have provided support for the construction of MAP's new Farmhouse and Community Food Training Center.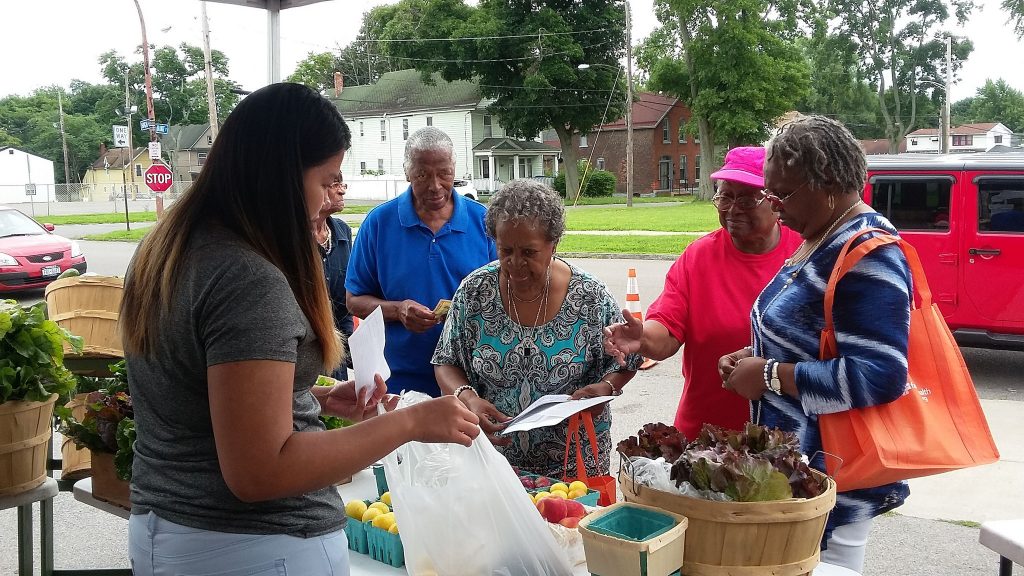 How important is resident involvement in your work?
We've developed every piece of our programs with the community. For the past several years, we've participated in a yearly event called the People's Food Movement to get input from communities across the city on what they'd like to be involved in and what's missing. We also do program evaluation with our youth at least once a month. We take their feedback to heart and see them as partners in this process. They are the experts in their community.
What results have you seen so far?
We have employed over 700 young people from our neighborhood and other low-income neighborhoods since we started Growing Green – about 50 people every year. We have increased healthy and affordable food access for over 10,000 households in Buffalo since we started our mobile market.
Another thing we're very proud of is supporting young people in getting through high school and planning for afterward, whether that's further job training or something else. For the past 8 years, 95 percent of our youth who have been in the program for at least a year have graduated high school on time and have gone to college. In a city where the high school graduation rate is a little over 60 percent, we're really proud of that.
What are the biggest challenges you've faced in accomplishing your work?
Funding for this work has not always been easily accessible. However, over the past 5 years, there have been more funding sources who understand food justice and health equity. There's more money both regionally and nationally for this kind of work now compared to when we started, but funding continues to be a challenge as our organization grows.
In addition to funding, we have spent a lot of time educating our local and regional policymakers on the importance of food as a community development tool. Traditionally, when policymakers think of community development, they think of affordable housing, not food access, but now I think that's changing.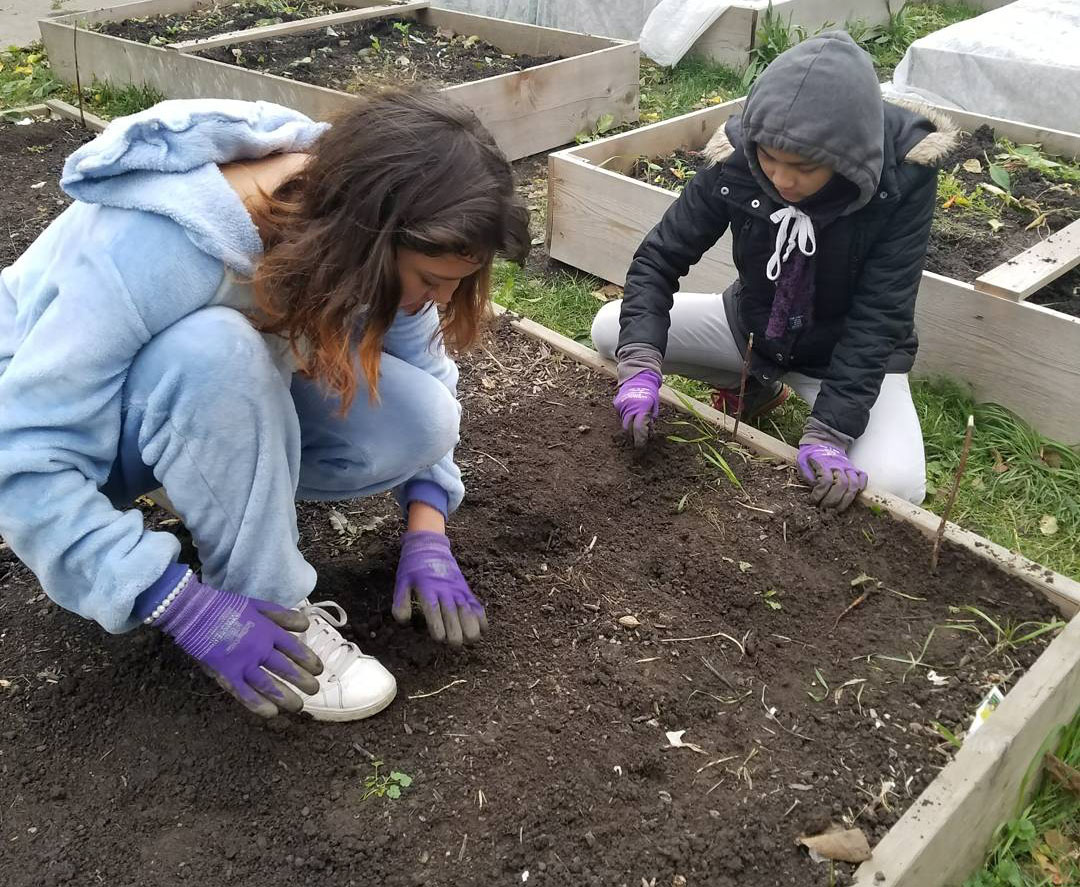 It seems like there is something special about work around food. Why do you think that is?
Access to healthy, affordable food is a human right. It shouldn't be a luxury. It is related to jobs, poverty alleviation, education, community building, and changing the physical environment of our communities. Gardens are new public squares where people get together and talk about issues in their communities and build relationships. Food is something that connects people and is a driver of economic and community development.
Is a prevention-focused approach something you think about with your work at MAP?
Everything we do has a prevention focus to it. The work we do with youth—building leadership and giving kids options—has a prevention focus because if they have meaningful work and feel part of a community, they're not going to get into other things. All the healthy food and nutrition education we do is also prevention-focused. It's hard for us to quantify that impact, but we've seen kids change their eating habits. A lot of these kids have family members with diabetes, heart disease, and other diet-related illnesses, and they influence their families when they go home. Simply making healthy, affordable food accessible to people is a preventive measure.
What is the part of the job you enjoy the most?
Spending time with our youth. They do things I never would have done when I was a teenager, like speaking in front of crowds about what they believe in. They are amazing. To see kids come in as shy and awkward and leave as incredible leaders in their community is why I do this work.