An Educator's View: Reflecting on Physical Activity: Moving Toward Obesity Solutions
March 22, 2016 | Commentary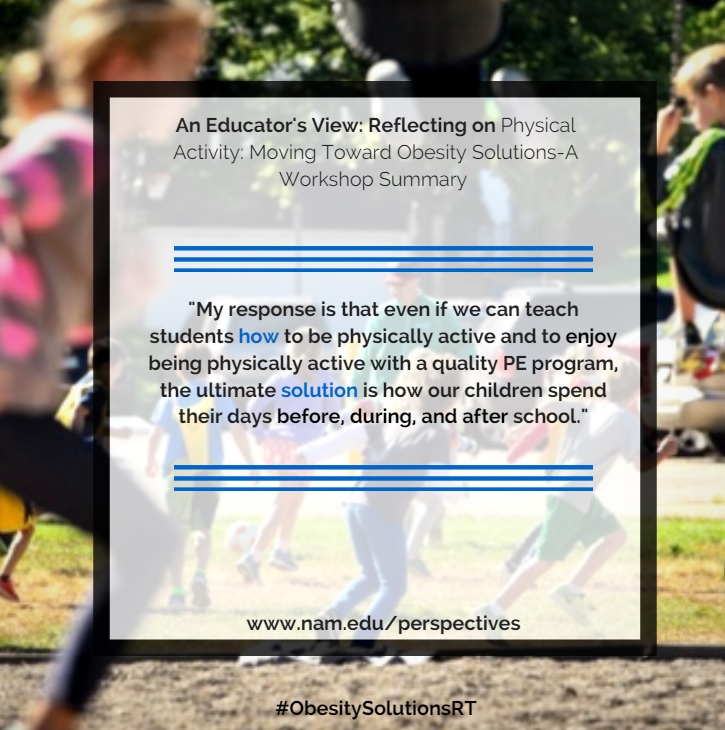 As a physical educator and now the director of health and physical education (PE) for a large urban school district, I constantly struggle for funding, appropriate scheduling, and sufficient space for quality PE classes, recess, and other physical activity opportunities for our schools. At times, our profession is compelled to justify its very existence, or at least to try to explain why physical education is important for all children. I am always searching for evidence that will support the value of quality programs, and I found that evidence in Physical Activity: Moving Toward Obesity Solutions—Workshop Summary (IOM, 2015).
Physical educators are often asked how they are addressing obesity among children and youth. However, when I entered the field 25 years ago, this did not come up much in my pedagogy or motor development classes. In my district, at least 45 percent of our students are overweight or obese, so I struggle with the best response. I think that however great our programs are, the solution to the obesity issue will not be found in a quality PE class taught by a great teacher with all the right equipment, the best curriculum, and the best schedules. Rather, my response is that even if we can teach students how to be physically active and to enjoy being physically active with a quality PE program, the ultimate solution is how our children spend their days before, during, and after school.
We need to change the culture of our schools. I explain that our students need more time for physical activity—recess; open gyms before, during, and after school; children walking or biking to school; and out-of-school activity opportunities with little or no cost. But I have not had much evidence to back this up—until Physical Activity: Moving Toward Obesity Solutions—Workshop Summary (IOM, 2015). I am thrilled to have a reference document that provides research to support our cause. If we do what we need to do, our children will benefit (and it appears their families will as well).
I think Chapter 2 of the workshop summary, "Physical Activity and the Primary Prevention of Obesity in Youth," should be required reading for physical educators. Aviva Must, workshop presenter, noted "We need to think about equitable access to physical activity opportunities" (IOM, 2015). Research shows that recess policies reflect the same income disparities we see in adult access to physical activity. James Hill, the workshop's keynote speaker, reminded us "Beyond helping regulate weight, physical activity improves learning and cognitive function, cardiorespiratory fitness, and mental state" (IOM, 2015). His statement needs to be repeated over and over; it should resonate with decision makers about the genuine need for quality physical education and regular physical activity for all children.
Even if our profession always knew this, Physical Activity: Moving Toward Obesity Solutions—Workshop Summary can help us be more persuasive.
Another thing I gleaned and hope to include in my role as an advocate for a cultural shift towards a naturally active life in our school community is the importance of starting very early with children. Young children clearly love to be active, but how do we address this in our preschools and kindergarten classrooms? I was very interested to learn that young children can accumulate a lot of activity minutes and that we may be preventing some of this just through daily scheduling that doesn't support it!
Finally, I was happy to see the discussion about the role of parents. Shari Barkin presented findings that showed when families were taught how to use their built environment for physical activity, the skill became sustainable. It clearly is not enough to educate parents on the reasons for children to eat well and be active, but as a community we need to educate community members how to use the existing built environment to the fullest.
In my district we work to include families in presentations and discussions at family wellness nights and with communication through children, but I think we need to create a new vision for this. It may be that it has been so long since our families even played together that we need to start over with teaching hopscotch, jumping rope, and kickball to our adults and parents.
I will make Physical Activity: Moving Toward Obesity Solutions—Workshop Summary a part of our initial professional development in the fall. I will be very interested to see how the PE teachers react, and more importantly, I will be interested to learn what they think we should do with this important information. This research may just give physical educators the boost we need to continue to help change the active lives of our students.
---
References
IOM (Institute of Medicine). 2015. Physical activity: Moving toward obesity solutions. Workshop summary. Washington, DC: The National Academies Press.