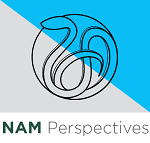 Perspectives
NAM Perspectives are expert commentaries and discussion papers by leading voices in health and health care.
Browse our latest Perspectives below.
ISSN 2578-6865
About NAM Perspectives >>

The National Academy of Medicine's Perspectives platform extends the National Academies' convening and advising functions by providing a venue for leading health, medical, science, and policy experts to reflect on issues and opportunities important to the advancement of health, health care, and biomedical science. Perspectives are individually-authored papers that do not reflect consensus positions of the NAM, the National Academies, or the authors' organizations. They are not reports of the National Academies.

Perspectives come in two forms: commentaries, or brief, op-ed-style opinion pieces; and discussion papers, lengthier peer-reviewed articles that present research, summarize literature, report on field activities, or consider approaches to progress. Authors are not paid, and submissions must be invited by the NAM.

Perspectives are intended to advance the field by spotlighting innovative ideas; sharing information, expertise, and best practices; and promoting dialogue and collaboration among stakeholders. They are frequently cited in media; referenced in academic publications; used as background documents for meetings; adopted in course materials or organizational toolkits; and used as position statements by stakeholder groups, among other outcomes. They are the #1 driver of traffic to NAM.edu.

For more information, contact Molly Doyle at mdoyle@nas.edu.
Found 251 Results
Page 9 of 51

Empowered by federal, state, and community funding, Washington State has been working for years to enact delivery system transformation to improve the health and well-being of its 7 million residents. In fact, in the 1990s Washington State passed legislation o ...
Authors: Jana Eisenstein and Debbie I. Chang
Tags: Community Health, health equity, Population Health
April 24, 2017
---

Health care organizations can magnify the impact of their community service and other philanthropic activities by implementing programs that create shared value. By definition, shared value is created when an initiative generates benefit for the sponsoring org ...
Authors: Thomas E. Kottke, Nico Pronk, Andrew R. Zinkel, and George J. Isham
April 21, 2017
---

Policy makers, government agencies, and community organizations seeking to improve health outcomes in vulnerable populations are paying increased attention to family engagement and health literacy as key elements of a population health approach. To capitalize ...
Authors: Bhavna Sivanand, Ariella Herman, Carol Teutsch, and Steven Teutsch
Tags: Children Youth and Familes, Children's health, health literacy, Population Health, Public Health
April 14, 2017
---

The 20th century saw remarkable improvements in life expectancy. Improvements in access to clean water, disease screening and prevention, the discovery of antibiotics and vaccines, development of organ transplantation, and advances in treatment for heart disea ...
Authors: Jeffrey Cohn, Janet Corrigan, Joanne Lynn, Diane Meier, Jeri Miller, Joseph Shega, and Susan Wang
Tags: End of Life Care, Population Health, Serious Illness Care
April 13, 2017
---

Childhood obesity continues to be a serious public health concern in the United States. About 12.7 million children and adolescents aged 2–19 years, or 17 percent of the population, have obesity. In addition to genetic and behavioral factors, the environments ...
Authors: Paul Bakus, Nico Pronk, and Sylvia Rowe
Tags: Food and Nutrition, Obesity, Public Health
April 03, 2017
---
Page 9 of 51