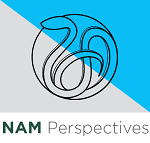 Perspectives
NAM Perspectives are expert commentaries and discussion papers by leading voices in health and health care.
Browse our latest Perspectives below.
About NAM Perspectives >>

The National Academy of Medicine's Perspectives platform extends the National Academies' convening and advising functions by providing a venue for leading health, medical, science, and policy experts to reflect on issues and opportunities important to the advancement of health, health care, and biomedical science. Perspectives are individually-authored papers that do not reflect consensus positions of the NAM, the National Academies, or the authors' organizations. They are not reports of the National Academies.

Perspectives come in two forms: commentaries, or brief, op-ed-style opinion pieces; and discussion papers, lengthier peer-reviewed articles that present research, summarize literature, report on field activities, or consider approaches to progress. Authors are not paid, and submissions must be invited by the NAM.

Perspectives are intended to advance the field by spotlighting innovative ideas; sharing information, expertise, and best practices; and promoting dialogue and collaboration among stakeholders. They are frequently cited in media; referenced in academic publications; used as background documents for meetings; adopted in course materials or organizational toolkits; and used as position statements by stakeholder groups, among other outcomes. They are the #1 driver of traffic to NAM.edu.

For more information, contact Molly Doyle at mdoyle@nas.edu.
Found 242 Results
Page 8 of 49

Childhood obesity continues to be a serious public health concern in the United States. About 12.7 million children and adolescents aged 2–19 years, or 17 percent of the population, have obesity. In addition to genetic and behavioral factors, the environments ...
Authors: Paul Bakus, Nico Pronk, and Sylvia Rowe
Tags: Food and Nutrition, Obesity, Public Health
April 03, 2017
---

For health professionals, stress and eating often combine in unhealthy ways. The stress comes early in their training and lingers throughout their careers. Anyone who has worked or trained in a hospital knows all too well the cycle of workplace stress leading ...
Authors: Kathrin Eliot and Kathryn M. Kolasa
Tags: Clinician Resilience, Clinician Well Being
March 24, 2017
---

More than 70 percent of psychology doctoral students report experiencing stressors that can affect their ability to fully function. Common stressors include academic responsibilities, debt, anxiety, and poor work–life balance. Lack of support from faculty, poo ...
Authors: Catherine L. Grus, Kimberly Bodner, Justine Kallaugher, Suzanne H. Lease, Rebecca Schwartz-Mette, Dave Shen-Miller, and Nadine Kaslow
Tags: Clinician Resilience, Clinician Well Being
March 24, 2017
---

Now more than ever is the time for occupational therapy educators, students, and practitioners to invest in strategies to combat burnout and stress. Current health care practice requires occupational therapy practitioners to manage many dimensions of patient c ...
Authors: Emily Zeman and Neil Harvison
Tags: Clinician Resilience, Clinician Well Being
March 24, 2017
---

Burnout, depression, and suicidal ideation are key areas of concern because of the consequences they can have on physicians as well as the patients for whom they care. The level of burnout in the medical profession has increased at an alarming rate in the past ...
Authors: Robert G. G. Piccinini, Kenya D. McRae, John W. Becher, Anna Z. Hayden, Caleb B. Hentges, Angela Kalcec, Pooja Kinkhabwala, Vanessa W. Halvorsen, Adrienne White-Faines, and David Escobar
Tags: Clinician Resilience, Clinician Well Being
March 24, 2017
---
Page 8 of 49