function OptanonWrapper() { }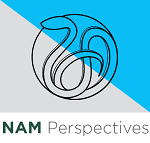 Perspectives
NAM Perspectives are expert commentaries and discussion papers by leading voices in health and health care.
Browse our latest Perspectives below and join the conversation online by using #NAMPerspectives!
ISSN 2578-6865
About NAM Perspectives >>

The National Academy of Medicine's Perspectives platform extends the National Academies' convening and advising functions by providing a venue for leading health, medical, science, and policy experts to reflect on issues and opportunities important to the advancement of health, health care, and biomedical science. Perspectives are individually-authored papers that do not reflect consensus positions of the NAM, the National Academies, or the authors' organizations. They are not reports of the National Academies.

Perspectives come in two forms: commentaries, or brief, op-ed-style opinion pieces; and discussion papers, lengthier peer-reviewed articles that present research, summarize literature, report on field activities, or consider approaches to progress. Authors are not paid, and submissions must be invited by the NAM.

Perspectives are intended to advance the field by spotlighting innovative ideas; sharing information, expertise, and best practices; and promoting dialogue and collaboration among stakeholders. They are frequently cited in media; referenced in academic publications; used as background documents for meetings; adopted in course materials or organizational toolkits; and used as position statements by stakeholder groups, among other outcomes. They are the #1 driver of traffic to NAM.edu.

For more information, contact Jenna Ogilvie at jogilvie@nas.edu.
Found 254 Results
Page 6 of 51

Introduction By Sandeep P. Kishore The NAM Perspectives paper "Breaking the Culture of Silence on Physician Suicide" [1] brought together four unique voices from surgery, nursing, medical training, and the clergy to consider what led Kaitlyn, a young medical s ...
Authors: Arthur Hengerer and Sandeep P. Kishore
Tags: Clinician Resilience, Clinician Well Being
August 28, 2017
---

Diet- and activity-related illnesses—such as heart disease, stroke, cancer, and type 2 diabetes—can shorten life spans and adversely impact quality of life. Over the past 15 years, the public health field has made important progress in addressing these illness ...
Authors: Howard Pinderhughes
Tags: Food and Nutrition, Physical Activity, Public Health, Trauma
August 07, 2017
---

  Antimicrobial Usage and Interventions: A Brief History from 1950 to the Present Antimicrobials for veterinary purposes came on the market in the 1950s, followed shortly by antimicrobial growth promoters (AGPs), because of their growth-enhancing effects to an ...
Authors: Vibe Dalhoff Andersen and Tine Hald
Tags: Antibiotic Resistance, Antibiotics, Drug Research, Food and Nutrition
July 31, 2017
---
---

Introduction Typically, the authorities and experts on public health practices are public health officials. The public expects these officials to offer important health information and guidelines to prevent disease and promote good health strategies. In times ...
Authors: Kim Parson, Marin P. Allen, Wilma Alvarado-Little, and Rima Rudd
Tags: Health Communication, health literacy
July 17, 2017
---
Page 6 of 51