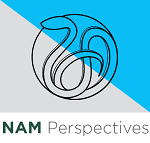 Perspectives
NAM Perspectives are expert commentaries and discussion papers by leading voices in health and health care.
Browse our latest Perspectives below.
About NAM Perspectives >>

The National Academy of Medicine's Perspectives platform extends the National Academies' convening and advising functions by providing a venue for leading health, medical, science, and policy experts to reflect on issues and opportunities important to the advancement of health, health care, and biomedical science. Perspectives are individually-authored papers that do not reflect consensus positions of the NAM, the National Academies, or the authors' organizations. They are not reports of the National Academies.

Perspectives come in two forms: commentaries, or brief, op-ed-style opinion pieces; and discussion papers, lengthier peer-reviewed articles that present research, summarize literature, report on field activities, or consider approaches to progress. Authors are not paid, and submissions must be invited by the NAM.

Perspectives are intended to advance the field by spotlighting innovative ideas; sharing information, expertise, and best practices; and promoting dialogue and collaboration among stakeholders. They are frequently cited in media; referenced in academic publications; used as background documents for meetings; adopted in course materials or organizational toolkits; and used as position statements by stakeholder groups, among other outcomes. They are the #1 driver of traffic to NAM.edu.

For more information, contact Molly Doyle at mdoyle@nas.edu.
Found 242 Results
Page 5 of 49

  Health communication, health education, and health literacy are rooted in a common understanding of human communication and share the goals of enhancing human health, improving health outcomes, and reducing health disparities. We have an opportunity to mobil ...
Authors: Marin P. Allen, Elaine Auld, Robert Logan, J. Henry Montes, and Stacey Rosen
Tags: Education, health literacy, Public Health
July 10, 2017
---

  The US health care system is rapidly changing in an effort to deliver better care, improve health, and lower costs while providing care for an aging population with high rates of chronic disease and co-morbidities. Among the changes affecting clinical practi ...
Authors: Lotte N. Dyrbye, Tait D. Shanafelt, Christine A. Sinsky, Pamela F. Cipriano, Jay Bhatt, Alexander Ommaya, Colin P. West, and David Meyers
Tags: Burnout, Clinician Resilience, Clinician Well Being, Mental Health
July 05, 2017
---
---

  Recent advances in cell biology and genetic engineering have changed the way we think about medicine. Indeed, we are witnessing a potential shift from the traditional paradigm of health care to one with greater focus on the possibility of regenerative and cu ...
Authors: Rachel Haddock, Sheng Lin-Gibson, Nadya Lumelsky, Richard McFarland, Krishnendu Roy, Krishanu Saha, Jiwen Zhang, and Claudia Zylberberg
Tags: Biomedical and Health Research, Diseases, Health Care, Precision Medicine
June 23, 2017
---

  As a result of the recommendations from the report Transforming the Workforce for Children Birth Through Age 8: A Unifying Foundation (IOM and NRC, 2015), a group of representatives from national organizations came together in a series of meetings in 2016 to ...
Authors: Deborah Adams, Laura A. Bornfreund, Jennifer E. Carinci, Lori Connors-Tadros, Lynette M. Fraga, Amanda B. Guarino, Winona Hao, Bill Hudson, Rose M. Kor, Sarah LeMoine, Jennifer Lockwood-Shabat, Jana Martella, Deborah S. Mathias, Caitlin McLean, Cheryl Polk, Philip S. Rogers, Tonja Rucker, Susan D. Russell, Aaliyah A. Samuel, Carolyn Stevens, Teri N. Talan, Valora Washington, and Vilma Williams
Tags: Children, Children Youth and Familes, Children's health, Education
June 19, 2017
---
Page 5 of 49