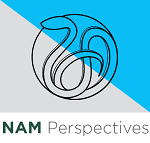 Perspectives
NAM Perspectives are expert commentaries and discussion papers by leading voices in health and health care.
Browse our latest Perspectives below.
About NAM Perspectives >>

The National Academy of Medicine's Perspectives platform extends the National Academies' convening and advising functions by providing a venue for leading health, medical, science, and policy experts to reflect on issues and opportunities important to the advancement of health, health care, and biomedical science. Perspectives are individually-authored papers that do not reflect consensus positions of the NAM, the National Academies, or the authors' organizations. They are not reports of the National Academies.

Perspectives come in two forms: commentaries, or brief, op-ed-style opinion pieces; and discussion papers, lengthier peer-reviewed articles that present research, summarize literature, report on field activities, or consider approaches to progress. Authors are not paid, and submissions must be invited by the NAM.

Perspectives are intended to advance the field by spotlighting innovative ideas; sharing information, expertise, and best practices; and promoting dialogue and collaboration among stakeholders. They are frequently cited in media; referenced in academic publications; used as background documents for meetings; adopted in course materials or organizational toolkits; and used as position statements by stakeholder groups, among other outcomes. They are the #1 driver of traffic to NAM.edu.

For more information, contact Molly Doyle at mdoyle@nas.edu.
Found 245 Results
Page 48 of 49

During the first decade of this century, the Institute of Medicine (IOM) played a major role in laying out a vision and strategic direction for change at all levels of the health system, including patients engaged as partners in their health and health care; i ...
Authors: Janet M. Corrigan, Thomas Valuck
Tags: Health Care Workforce
June 29, 2012
---

In a discussion paper published in January 2012, a group of us at the Institute of Medicine put forward some ideas about the "deadly sins" of public health. At the end, I suggested six initial candidates for the counterweight, public health's "living virtues": ...
Authors: Tiffany Cloutier, Robert Hamilton, Kristi Fossum Jones, Edward Mberu Kamau, Vikram Khanna, Tara McCoy, Emily Ann Miller, Anila Naz, Holly Patrick, Jillian Penrod, Richard F. Southby, Elizabeth McGean Weist, Yan Xu, Harvey V. Fineberg
Tags: Public Health
June 27, 2012
---

A wide range of organizations have recognized that having health literate health care organizations benefits not only the 77 million Americans who have limited health literacy, but also the majority of Americans who have difficulty understanding and using curr ...
Authors: Cindy Brach, Debra Keller, Lyla M. Hernandez, Cynthia Baur, Ruth Parker, Benard Dreyer, Paul Schyve, Andrew J. Lemerise, Dean Schillinger
Tags: Health Care Workforce, Public Health
June 19, 2012
---

Traditional randomised clinical trials are very expensive and time-consuming and often have poor external validity (Ware and Hamel, 2011). The challenge for modern medicine is to find ways of producing good-quality evidence with good external validity and to d ...
Authors: Tom MacDonald, Isla Mackenzie, Li Wei
Tags: Biomedical and Health Research
May 18, 2012
---

The arrangements for the regulation and governance of health research in the United Kingdom (UK) have evolved, piecemeal, over the past 30 years, and much is now enshrined in UK and European Union (EU) legislation. Each individual measure was introduced with t ...
Authors: Michael D. Rawlins
Tags: Biomedical and Health Research
May 18, 2012
---
Page 48 of 49