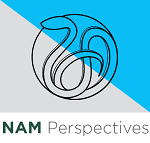 Perspectives
NAM Perspectives are expert commentaries and discussion papers by leading voices in health and health care.
Browse our latest Perspectives below.
About NAM Perspectives >>

The National Academy of Medicine's Perspectives platform extends the National Academies' convening and advising functions by providing a venue for leading health, medical, science, and policy experts to reflect on issues and opportunities important to the advancement of health, health care, and biomedical science. Perspectives are individually-authored papers that do not reflect consensus positions of the NAM, the National Academies, or the authors' organizations. They are not reports of the National Academies.

Perspectives come in two forms: commentaries, or brief, op-ed-style opinion pieces; and discussion papers, lengthier peer-reviewed articles that present research, summarize literature, report on field activities, or consider approaches to progress. Authors are not paid, and submissions must be invited by the NAM.

Perspectives are intended to advance the field by spotlighting innovative ideas; sharing information, expertise, and best practices; and promoting dialogue and collaboration among stakeholders. They are frequently cited in media; referenced in academic publications; used as background documents for meetings; adopted in course materials or organizational toolkits; and used as position statements by stakeholder groups, among other outcomes. They are the #1 driver of traffic to NAM.edu.

For more information, contact Molly Doyle at mdoyle@nas.edu.
Found 239 Results
Page 48 of 48

Four years ago, UCLA's medical center was ranked as an honor-roll hospital by U.S. News and World Report—but our patients would seldom "refer us to a friend." We skillfully performed today's health care miracles: organ transplants, complex neurosurgical repair ...
Authors: David Feinberg, Molly Coye, A. Eugene Washington
Tags: Health Care Workforce, Public Health
April 20, 2012
---

The challenging economics of health care require today's innovators to demonstrate value against a number of criteria, including access to care, the current standard of care, and the economic capacity of payers. One way innovators have sought to address the pa ...
Authors: Sheri McCoy
Tags: Public Health, Quality and Patient Safety
January 27, 2012
---

As is the case every year, millions of Americans will contract influenza this flu season, and thousands will die. During the 2009–10 season alone, when H1N1 set off the world's first flu pandemic in 40 years, more than an estimated 12,000 Americans lost their ...
Authors: Donna E. Shalala
Tags: Diseases, Public Health
January 27, 2012
---

Activity Marketing experts, decision scientists, patient advocates, and clinicians have developed a set of guiding principles and basic expectations underpinning patient-clinician communication. The work was stewarded under the auspices of the Best Practices a ...
Authors: Lyn Paget, Paul Han, Susan Nedza, Patricia Kurtz, Eric Racine, Sue Russell, John Santa, Mary Jean Schumann, Joy Simha, Isabelle Von Kohorn
Tags: Biomedical and Health Research, Health Care Workforce, Public Health, Quality and Patient Safety
June 15, 2011
---
Page 48 of 48