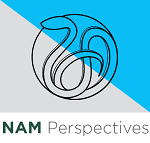 Perspectives
NAM Perspectives are expert commentaries and discussion papers by leading voices in health and health care.
Browse our latest Perspectives below.
ISSN 2578-6865
About NAM Perspectives >>

The National Academy of Medicine's Perspectives platform extends the National Academies' convening and advising functions by providing a venue for leading health, medical, science, and policy experts to reflect on issues and opportunities important to the advancement of health, health care, and biomedical science. Perspectives are individually-authored papers that do not reflect consensus positions of the NAM, the National Academies, or the authors' organizations. They are not reports of the National Academies.

Perspectives come in two forms: commentaries, or brief, op-ed-style opinion pieces; and discussion papers, lengthier peer-reviewed articles that present research, summarize literature, report on field activities, or consider approaches to progress. Authors are not paid, and submissions must be invited by the NAM.

Perspectives are intended to advance the field by spotlighting innovative ideas; sharing information, expertise, and best practices; and promoting dialogue and collaboration among stakeholders. They are frequently cited in media; referenced in academic publications; used as background documents for meetings; adopted in course materials or organizational toolkits; and used as position statements by stakeholder groups, among other outcomes. They are the #1 driver of traffic to NAM.edu.

For more information, contact Molly Doyle at mdoyle@nas.edu.
Found 251 Results
Page 46 of 51

In October 2007, HSPD 21 called for a nationwide biosurveillance capability. Biosurveillance "in the context of human health is the science and practice of managing health-related data and information for early warning of threats and hazards, early detection o ...
Authors: Jeffrey Engel
Tags: Biomedical and Health Research, Global Health
March 15, 2013
---

Health equity has been defined in many ways, but essentially the concept focuses on promoting social justice rather than economic or social status as the primary means for determining access to good health and well-being (Braveman, 2006). Another way, however, ...
Authors: Eve J. Higginbotham
Tags: Select Populations and Health Disparities
January 24, 2013
---

In this discussion paper, David Classen, M.D., M.S., from the University of Utah School of Medicine and Pascal Metrics, a patient safety organization, describes how user experiences with Electronic Health Record systems from commercial vendors could be made pu ...
Authors: David Classen
Tags: Coverage and Access, Health Services, Public Health, Quality and Patient Safety
January 24, 2013
---

Equity is not a contemporary concept. The Oxford English Dictionary defines equity as "the quality of being fair and impartial: equity of treatment. A branch of law that developed alongside common law in order to remedy some of its defects in fairness and just ...
Authors: Allan Goldberg
Tags: Coverage and Access, Health Services, Public Health
January 18, 2013
---

In response to issues raised in the report of the World Health Organization (WHO)-affiliated Consultative Expert Working Group (CEWG) on research and development (R&D) financing and coordination and the desire of the U.S. government to obtain a wide range ...
Authors: Peter Hotez, Rachel Cohen, Carol Mimura, Tadataka Yamada, Stephen L. Hoffman, Deepali M. Patel
Tags: Global Health, Health Research
January 16, 2013
---
Page 46 of 51