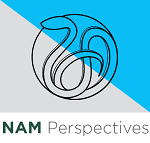 Perspectives
NAM Perspectives are expert commentaries and discussion papers by leading voices in health and health care.
Browse our latest Perspectives below.
About NAM Perspectives >>

The National Academy of Medicine's Perspectives platform extends the National Academies' convening and advising functions by providing a venue for leading health, medical, science, and policy experts to reflect on issues and opportunities important to the advancement of health, health care, and biomedical science. Perspectives are individually-authored papers that do not reflect consensus positions of the NAM, the National Academies, or the authors' organizations. They are not reports of the National Academies.

Perspectives come in two forms: commentaries, or brief, op-ed-style opinion pieces; and discussion papers, lengthier peer-reviewed articles that present research, summarize literature, report on field activities, or consider approaches to progress. Authors are not paid, and submissions must be invited by the NAM.

Perspectives are intended to advance the field by spotlighting innovative ideas; sharing information, expertise, and best practices; and promoting dialogue and collaboration among stakeholders. They are frequently cited in media; referenced in academic publications; used as background documents for meetings; adopted in course materials or organizational toolkits; and used as position statements by stakeholder groups, among other outcomes. They are the #1 driver of traffic to NAM.edu.

For more information, contact Molly Doyle at mdoyle@nas.edu.
Found 239 Results
Page 46 of 48

Pursuit of value-based health care is now the elect aim of health policy in the United States. But caution is needed to avoid affirming Winston Churchill's perspective that "you can always count on Americans to do the right thing after they've tried everything ...
Authors: Denis A. Cortese, Natalie Landman, Robert K. Smoldt
Tags: Health Care Workforce, Public Health
September 07, 2012
---

As politicians face the disturbing consequences of high health care costs on federal, state, and local budgets, the need to act will likely drive unwise decisions. Typical responses to severe cost pressures, as we have seen in state legislatures and the Congre ...
Authors: Helen Darling
Tags: Health Care Workforce, Public Health
August 10, 2012
---

American health care faces challenges in access, cost, and quality and in marked geographic and socioeconomic variability. While these challenges will require actions by federal and state governments, they also call for action by individual health systems. Act ...
Authors: Patricia A. Gabow
Tags: Public Health, Quality and Patient Safety
July 27, 2012
---

The policy drivers behind meaningful use are improving quality, enhancing safety, and increasing efficiency in our health care system. In my view, health care in the United States lacks "systemness" instead relying on disconnected hospitals, clinician offices, ...
Authors: John Halamka
Tags: Public Health, Quality and Patient Safety
July 13, 2012
---

During the first decade of this century, the Institute of Medicine (IOM) played a major role in laying out a vision and strategic direction for change at all levels of the health system, including patients engaged as partners in their health and health care; i ...
Authors: Janet M. Corrigan, Thomas Valuck
Tags: Health Care Workforce
June 29, 2012
---
Page 46 of 48