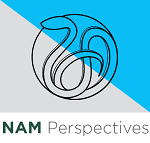 Perspectives
NAM Perspectives are expert commentaries and discussion papers by leading voices in health and health care.
Browse our latest Perspectives below.
About NAM Perspectives >>

The National Academy of Medicine's Perspectives platform extends the National Academies' convening and advising functions by providing a venue for leading health, medical, science, and policy experts to reflect on issues and opportunities important to the advancement of health, health care, and biomedical science. Perspectives are individually-authored papers that do not reflect consensus positions of the NAM, the National Academies, or the authors' organizations. They are not reports of the National Academies.

Perspectives come in two forms: commentaries, or brief, op-ed-style opinion pieces; and discussion papers, lengthier peer-reviewed articles that present research, summarize literature, report on field activities, or consider approaches to progress. Authors are not paid, and submissions must be invited by the NAM.

Perspectives are intended to advance the field by spotlighting innovative ideas; sharing information, expertise, and best practices; and promoting dialogue and collaboration among stakeholders. They are frequently cited in media; referenced in academic publications; used as background documents for meetings; adopted in course materials or organizational toolkits; and used as position statements by stakeholder groups, among other outcomes. They are the #1 driver of traffic to NAM.edu.

For more information, contact Molly Doyle at mdoyle@nas.edu.
Found 242 Results
Page 46 of 49

"Communicating with Patients on Health Care Evidence," presents tested messages and insights for engaging effectively with patients on medical evidence. Developed by individual participants from the IOM's Evidence Communication Innovation Collabora ...
Authors: Chuck Alston, Lyn Paget, George Halvorson, Bill Novelli, Jim Guest, Patrick McCabe, Karen Hoffman, Christopher Koepke, Melissa Simon, Sharyn Sutton, Sally Okun, Paul Wicks, Tresa Undem, Valerie Rohrbach, Isabelle Von Kohorn
Tags: Public Health, Quality and Patient Safety
September 25, 2012
---

The United States has the most technologically advanced health care system in the world. Although we spend far more on health care than any other country in the world, we perform poorly on many health measures, such as life expectancy and infant mortality, com ...
Authors: Rita Redberg
Tags: Health Care Workforce, Public Health
September 21, 2012
---

Equity was identified as one of the six core dimensions of a high-performing, high-quality health care system in the landmark Institute of Medicine (IOM) report Crossing the Quality Chasm (2001). The report concluded that health care should be "equitable, (tha ...
Authors: Winston Wong, Karen M. Anderson, Irene Dankwa-Mullan, Melissa A. Simon, William A. Vega
Tags: Select Populations and Health Disparities
September 13, 2012
---

Pursuit of value-based health care is now the elect aim of health policy in the United States. But caution is needed to avoid affirming Winston Churchill's perspective that "you can always count on Americans to do the right thing after they've tried everything ...
Authors: Denis A. Cortese, Natalie Landman, Robert K. Smoldt
Tags: Health Care Workforce, Public Health
September 07, 2012
---

As politicians face the disturbing consequences of high health care costs on federal, state, and local budgets, the need to act will likely drive unwise decisions. Typical responses to severe cost pressures, as we have seen in state legislatures and the Congre ...
Authors: Helen Darling
Tags: Health Care Workforce, Public Health
August 10, 2012
---
Page 46 of 49