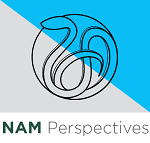 Perspectives
NAM Perspectives are expert commentaries and discussion papers by leading voices in health and health care.
Browse our latest Perspectives below.
About NAM Perspectives >>

The National Academy of Medicine's Perspectives platform extends the National Academies' convening and advising functions by providing a venue for leading health, medical, science, and policy experts to reflect on issues and opportunities important to the advancement of health, health care, and biomedical science. Perspectives are individually-authored papers that do not reflect consensus positions of the NAM, the National Academies, or the authors' organizations. They are not reports of the National Academies.

Perspectives come in two forms: commentaries, or brief, op-ed-style opinion pieces; and discussion papers, lengthier peer-reviewed articles that present research, summarize literature, report on field activities, or consider approaches to progress. Authors are not paid, and submissions must be invited by the NAM.

Perspectives are intended to advance the field by spotlighting innovative ideas; sharing information, expertise, and best practices; and promoting dialogue and collaboration among stakeholders. They are frequently cited in media; referenced in academic publications; used as background documents for meetings; adopted in course materials or organizational toolkits; and used as position statements by stakeholder groups, among other outcomes. They are the #1 driver of traffic to NAM.edu.

For more information, contact Molly Doyle at mdoyle@nas.edu.
Found 250 Results
Page 45 of 50

Health care delivery is changing in virtually every domain — affecting primary, tertiary, and quaternary care; crossing disciplines and engaging all health professions; and involving both processes and outcomes of care. All of these changes are marked by a maj ...
Authors: Darrell G. Kirch, David A. Davis, Linda A. Headrick, Nancy Davis
Tags: Quality and Patient Safety
May 03, 2013
---

More than ever, health care providers need to help purchasers make intelligent, value-based decisions. Providers are being asked to reduce the total cost of care, figure out what works and what doesn't, and move quickly on innovations that add value. But witho ...
Authors: Joseph Fifer
Tags: Coverage and Access, Health Care Reform
April 19, 2013
---

The obvious answer of "no" to the question of readiness is not just due to the ongoing loss of experienced staff. Loss of infrastructure is bad enough, but even an well-staffed health department needs safe and effective treatment tools when more than 100 high ...
Authors: Randall Reves
Tags: Diseases, Public Health
April 12, 2013
---
---

In October 2007, HSPD 21 called for a nationwide biosurveillance capability. Biosurveillance "in the context of human health is the science and practice of managing health-related data and information for early warning of threats and hazards, early detection o ...
Authors: Jeffrey Engel
Tags: Biomedical and Health Research, Global Health
March 15, 2013
---
Page 45 of 50