function OptanonWrapper() { }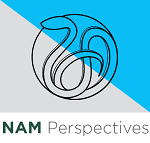 Perspectives
NAM Perspectives are expert commentaries and discussion papers by leading voices in health and health care.
Browse our latest Perspectives below and join the conversation online by using #NAMPerspectives!
ISSN 2578-6865
About NAM Perspectives >>

The National Academy of Medicine's Perspectives platform extends the National Academies' convening and advising functions by providing a venue for leading health, medical, science, and policy experts to reflect on issues and opportunities important to the advancement of health, health care, and biomedical science. Perspectives are individually-authored papers that do not reflect consensus positions of the NAM, the National Academies, or the authors' organizations. They are not reports of the National Academies.

Perspectives come in two forms: commentaries, or brief, op-ed-style opinion pieces; and discussion papers, lengthier peer-reviewed articles that present research, summarize literature, report on field activities, or consider approaches to progress. Authors are not paid, and submissions must be invited by the NAM.

Perspectives are intended to advance the field by spotlighting innovative ideas; sharing information, expertise, and best practices; and promoting dialogue and collaboration among stakeholders. They are frequently cited in media; referenced in academic publications; used as background documents for meetings; adopted in course materials or organizational toolkits; and used as position statements by stakeholder groups, among other outcomes. They are the #1 driver of traffic to NAM.edu.

For more information, contact Jenna Ogilvie at jogilvie@nas.edu.
Found 254 Results
Page 44 of 51

The national health care system is beginning to embrace the idea of a continuously learning health care system, as proposed by the Institute of Medicine (IOM) in the report Best Care at Lower Cost.  The necessity of such a system arose from the IOM's Quality C ...
Authors: Karen A. Daley
Tags: Quality and Patient Safety
July 12, 2013
---

This Discussion Paper, "Bringing a Systems Approach to Health," illustrates instances in which systems-based interventions have promoted better health at lower cost. Developed by individual participants from the IOM's Systems Approaches to Im ...
Authors: Gary Kaplan, George Bo-Linn, Pascale Carayon, Peter Pronovost, William Rouse, Proctor Reid, Robert Saunders
Tags: Quality and Patient Safety
July 10, 2013
---

As discussed by Christine Cassel of the American Board of Internal Medicine in an Institute of Medicine (IOM) commentary on June 14, 2013, the Choosing Wisely campaign unites more than 25 medical specialty societies, each agreeing to identify "Five Things Phys ...
Authors: Leah Binder
Tags: Public Health, Quality and Patient Safety
June 28, 2013
---

According to the Institute of Medicine report Best Care at Lower Cost: The Path to Continuously Learning Health Care in America, as much as $750 billion or 30 percent of health care expenditures may be wasted, including a substantial share from services that a ...
Authors: Christine K. Cassel
Tags: Coverage and Access, Health Services, Quality and Patient Safety
June 14, 2013
---

The IOM report Ensuring Safe Foods and Medical Products Through Stronger Regulatory Systems Abroad found that a lack of workforce training and professional development are common gaps among regulatory agencies in low- and middle-income countries. This paper sy ...
Authors: Charles Preston, Samvel Azatyan, Tammie Bell, Katherine Bond, Julia Bradsher, Martha Brumfield, Gillian Buckley, Thomas Hughes, Stacy Kane, Sherry Keramidas, Margaret Miller, Mary Morrison, Lebit Rägo, Jim Riviere, Mary Lou Valdez, Gerald Wojtala
Tags: Education, Global Health
June 11, 2013
---
Page 44 of 51