function OptanonWrapper() { }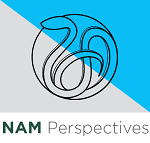 Perspectives
NAM Perspectives are expert commentaries and discussion papers by leading voices in health and health care.
Browse our latest Perspectives below and join the conversation online by using #NAMPerspectives!
ISSN 2578-6865
About NAM Perspectives >>

The National Academy of Medicine's Perspectives platform extends the National Academies' convening and advising functions by providing a venue for leading health, medical, science, and policy experts to reflect on issues and opportunities important to the advancement of health, health care, and biomedical science. Perspectives are individually-authored papers that do not reflect consensus positions of the NAM, the National Academies, or the authors' organizations. They are not reports of the National Academies.

Perspectives come in two forms: commentaries, or brief, op-ed-style opinion pieces; and discussion papers, lengthier peer-reviewed articles that present research, summarize literature, report on field activities, or consider approaches to progress. Authors are not paid, and submissions must be invited by the NAM.

Perspectives are intended to advance the field by spotlighting innovative ideas; sharing information, expertise, and best practices; and promoting dialogue and collaboration among stakeholders. They are frequently cited in media; referenced in academic publications; used as background documents for meetings; adopted in course materials or organizational toolkits; and used as position statements by stakeholder groups, among other outcomes. They are the #1 driver of traffic to NAM.edu.

For more information, contact Jenna Ogilvie at jogilvie@nas.edu.
Found 323 Results
Page 44 of 65

In their discussion paper, Hester and Stange develop ideas that may be familiar to many who work to improve population health broadly conceived. The authors applaud current innovations and new models being tested to address the cost of health and quality of he ...
Authors: James A. Hester, Paul V. Stange
Tags: Health Policy and Regulation, Payment Reform, Population Health
March 06, 2014
---
---

In this discussion paper, local public health official Thomas Schlenker describes one state's creative use of the Medicaid waiver. Through the waiver program, CMS allows states to reallocate funds in ways that improve Medicaid program effectiveness and e ...
Authors: Thomas Schlenker
Tags: Health Policy and Regulation, Payment Reform, Population Health, Public Health
February 06, 2014
---

The U.S. population is more diverse than ever before in terms of race, ethnicity, language, socioeconomic status, and education level. In order to adequately serve these changing demographics, health care organizations must provide all persons with the ability ...
Authors: Terri Ann Parnell, Elizabeth C. McCulloch, Jennifer H. Mieres, Fallon Edwards
Tags: Diversity and Inclusion, Health Disparities, Health Equity, Health Literacy, Health Policy and Regulation
January 28, 2014
---

As mobile devices become more popular mobile health applications (mHealth apps) present opportunities to improve health and wellness. However, poorly designed mHealth apps can contribute to the challenges many people have understanding and acting on health inf ...
Authors: Jordan Broderick, Theresa Devine, Ellen Langhans, Andrew J. Lemerise, Silje Lier, Linda Harris
Tags: Digital Health, Electronic Health Records, Health Literacy, Population Health, Public Health
January 28, 2014
---
Page 44 of 65