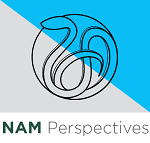 Perspectives
NAM Perspectives are expert commentaries and discussion papers by leading voices in health and health care.
Browse our latest Perspectives below.
About NAM Perspectives >>

The National Academy of Medicine's Perspectives platform extends the National Academies' convening and advising functions by providing a venue for leading health, medical, science, and policy experts to reflect on issues and opportunities important to the advancement of health, health care, and biomedical science. Perspectives are individually-authored papers that do not reflect consensus positions of the NAM, the National Academies, or the authors' organizations. They are not reports of the National Academies.

Perspectives come in two forms: commentaries, or brief, op-ed-style opinion pieces; and discussion papers, lengthier peer-reviewed articles that present research, summarize literature, report on field activities, or consider approaches to progress. Authors are not paid, and submissions must be invited by the NAM.

Perspectives are intended to advance the field by spotlighting innovative ideas; sharing information, expertise, and best practices; and promoting dialogue and collaboration among stakeholders. They are frequently cited in media; referenced in academic publications; used as background documents for meetings; adopted in course materials or organizational toolkits; and used as position statements by stakeholder groups, among other outcomes. They are the #1 driver of traffic to NAM.edu.

For more information, contact Molly Doyle at mdoyle@nas.edu.
Found 245 Results
Page 43 of 49

The IOM report Ensuring Safe Foods and Medical Products Through Stronger Regulatory Systems Abroad found that a lack of workforce training and professional development are common gaps among regulatory agencies in low- and middle-income countries. This paper sy ...
Authors: Charles Preston, Samvel Azatyan, Tammie Bell, Katherine Bond, Julia Bradsher, Martha Brumfield, Gillian Buckley, Thomas Hughes, Stacy Kane, Sherry Keramidas, Margaret Miller, Mary Morrison, Lebit Rägo, Jim Riviere, Mary Lou Valdez, Gerald Wojtala
Tags: Education, Global Health
June 11, 2013
---

Business and government often respond rapidly, without engaging health professionals, in their efforts to solve crises or embrace new technologies. Too often, decisions made prove to be shortsighted. One needs only to look to recent history for unintended envi ...
Authors: Bernard D. Goldstein
Tags: Public Health
June 11, 2013
---

For the global development community, 2015 is a pivotal year. Under United Nations leadership, multilateral organizations, national governments, international and national nongovernmental organizations, academic institutions, and other civil society sectors ar ...
Authors: J. Lawrence Aber, Joan Lombardi, Sarah Klaus, Karen Campion
Tags: Children Youth and Familes, Global Health, Select Populations and Health Disparities
May 31, 2013
---

We are entering a critical time in health care in the United States. The Patient Protection and Affordable Care Act (ACA) changes the American health care system in many ways. Of major importance is the fact that it expands access to health insurance for milli ...
Authors: Kavita K. Patel, Mallory L. West, Lyla M. Hernandez, Victor Y. Wu, Winston F. Wong, Ruth M. Parker
Tags: Coverage and Access, Health Services, Public Health
May 29, 2013
---

A central tenet of the learning health system philosophy is that evidence development should be part of care delivery. Furthermore, it should be possible to address difficult problems in the learning health system; health care associated infections are such pr ...
Authors: Richard Platt, Susan S. Huang, Jonathan B. Perlin
Tags: Quality and Patient Safety
May 29, 2013
---
Page 43 of 49