function OptanonWrapper() { }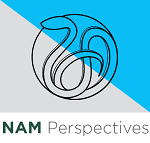 Perspectives
NAM Perspectives are expert commentaries and discussion papers by leading voices in health and health care.
Browse our latest Perspectives below and join the conversation online by using #NAMPerspectives!
ISSN 2578-6865
About NAM Perspectives >>

The National Academy of Medicine's Perspectives platform extends the National Academies' convening and advising functions by providing a venue for leading health, medical, science, and policy experts to reflect on issues and opportunities important to the advancement of health, health care, and biomedical science. Perspectives are individually-authored papers that do not reflect consensus positions of the NAM, the National Academies, or the authors' organizations. They are not reports of the National Academies.

Perspectives come in two forms: commentaries, or brief, op-ed-style opinion pieces; and discussion papers, lengthier peer-reviewed articles that present research, summarize literature, report on field activities, or consider approaches to progress. Authors are not paid, and submissions must be invited by the NAM.

Perspectives are intended to advance the field by spotlighting innovative ideas; sharing information, expertise, and best practices; and promoting dialogue and collaboration among stakeholders. They are frequently cited in media; referenced in academic publications; used as background documents for meetings; adopted in course materials or organizational toolkits; and used as position statements by stakeholder groups, among other outcomes. They are the #1 driver of traffic to NAM.edu.

For more information, contact Jenna Ogilvie at jogilvie@nas.edu.
Found 323 Results
Page 43 of 65

During July 1995, Chicago was gripped by a heat wave that still ranks as one of the deadliest in U.S. history. Estimates vary, but more than 700 people, many of them elderly and isolated, may have died as a result of the heat, which soared as high as 106 degre ...
Authors: Donna E. Shalala, Alfred Sommer
Tags: Environmental Health, Global Health, Public Health
July 08, 2014
---

In their discussion paper, Zimmerman and Woolf provide an overview of the large body of evidence that links education and health. They discuss education in the context of a socioecological model of health, that illustrates the social and other determinants of ...
Authors: Emily Zimmerman, Steven H. Woolf
Tags: Health Disparities, Health Equity, Population Health
June 05, 2014
---
---

In their discussion paper, Fischer and Teutsch offer a vivid example of a multi-sector, innovative program implemented in several vulnerable communities in Los Angeles county. The program Parks After Dark is elegantly simple in concept. Parks could be the locu ...
Authors: Kelly N. Fischer, Steven M. Teutsch
Tags: Environmental Health, Health Disparities, Population Health, Prevention, Public Health, Social Determinants of Health, Violence
April 10, 2014
---
---
Page 43 of 65