function OptanonWrapper() { }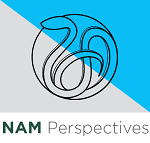 Perspectives
NAM Perspectives are expert commentaries and discussion papers by leading voices in health and health care.
Browse our latest Perspectives below and join the conversation online by using #NAMPerspectives!
ISSN 2578-6865
About NAM Perspectives >>

The National Academy of Medicine's Perspectives platform extends the National Academies' convening and advising functions by providing a venue for leading health, medical, science, and policy experts to reflect on issues and opportunities important to the advancement of health, health care, and biomedical science. Perspectives are individually-authored papers that do not reflect consensus positions of the NAM, the National Academies, or the authors' organizations. They are not reports of the National Academies.

Perspectives come in two forms: commentaries, or brief, op-ed-style opinion pieces; and discussion papers, lengthier peer-reviewed articles that present research, summarize literature, report on field activities, or consider approaches to progress. Authors are not paid, and submissions must be invited by the NAM.

Perspectives are intended to advance the field by spotlighting innovative ideas; sharing information, expertise, and best practices; and promoting dialogue and collaboration among stakeholders. They are frequently cited in media; referenced in academic publications; used as background documents for meetings; adopted in course materials or organizational toolkits; and used as position statements by stakeholder groups, among other outcomes. They are the #1 driver of traffic to NAM.edu.

For more information, contact Jenna Ogilvie at jogilvie@nas.edu.
Found 254 Results
Page 43 of 51

In his discussion paper, Stephen Shortell identifies a key requirement to move us from being a culture of sickness and care to being a culture of health: making changes in how we pay for health. To effect this transition, the nation needs partnerships that tra ...
Authors: Stephen M. Shortell
Tags: Public Health
August 08, 2013
---

Health literacy is the degree to which individuals have the capacity to obtain, process, and understand basic health information and services needed to make appropriate health decisions. Health literacy affects health outcomes and is critical for ensuring safe ...
Authors: Darren A. DeWalt, Jonathan McNeill
Tags: Public Health
July 26, 2013
---

The Institute of Medicine's (IOM's) report Best Care at Lower Cost1 indicates that team-based care is an important tool for making the transition to a learning health care system, and it is a major objective of the work the Josiah Macy Jr. Foundation has been ...
Authors: George E. Thibault, Stephen C. Schoenbaum
Tags: Quality and Patient Safety
July 26, 2013
---

Rising health care costs, increasing prevalence of chronic disease, persisting health care disparities and access issues, and the aging population underlie the urgent need for change in the U.S. health care system to simultaneously improve health and reduce co ...
Authors: Robert M. Jacobson, Lila J. Rutten
Tags: Public Health
July 16, 2013
---

In this commentary, Dr. Regina Benjamin highlights accomplishments of the National Prevention Council, an unprecedented gathering of multiple federal departments and agencies whose policies and practices bear on health. Authorized under the Affordable Care Act ...
Authors: Regina M. Benjamin
Tags: Health Reform, Select Populations and Health Disparities
July 15, 2013
---
Page 43 of 51