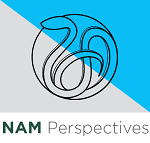 Perspectives
NAM Perspectives are expert commentaries and discussion papers by leading voices in health and health care.
Browse our latest Perspectives below.
About NAM Perspectives >>

The National Academy of Medicine's Perspectives platform extends the National Academies' convening and advising functions by providing a venue for leading health, medical, science, and policy experts to reflect on issues and opportunities important to the advancement of health, health care, and biomedical science. Perspectives are individually-authored papers that do not reflect consensus positions of the NAM, the National Academies, or the authors' organizations. They are not reports of the National Academies.

Perspectives come in two forms: commentaries, or brief, op-ed-style opinion pieces; and discussion papers, lengthier peer-reviewed articles that present research, summarize literature, report on field activities, or consider approaches to progress. Authors are not paid, and submissions must be invited by the NAM.

Perspectives are intended to advance the field by spotlighting innovative ideas; sharing information, expertise, and best practices; and promoting dialogue and collaboration among stakeholders. They are frequently cited in media; referenced in academic publications; used as background documents for meetings; adopted in course materials or organizational toolkits; and used as position statements by stakeholder groups, among other outcomes. They are the #1 driver of traffic to NAM.edu.

For more information, contact Molly Doyle at mdoyle@nas.edu.
Found 249 Results
Page 41 of 50

Three years ago, the Institute of Medicine (IOM) released its landmark report The Future of Nursing: Leading Change, Advancing Health, made possible by the support of the Robert Wood Johnson Foundation (RWJF). In light of the tremendous need for nurses in heal ...
Authors: Harvey V. Fineberg, Risa Lavizzo-Mourey
Tags: Aging, Education, Health Care Workforce
October 03, 2013
---

In this discussion paper, Elizabeth Rigby identifies an important gap in efforts to consider the health effects of policy decisions in non-health sectors, such as transportation, housing, and education. These Health in All Policies (HiAP) efforts often overloo ...
Authors: Elizabeth Rigby
Tags: Public Health
September 18, 2013
---

In their discussion paper, Linda Rudolph and colleagues define the health in all policies concept, explain the need for health in all policies approaches to confront complex and current health challenges in the population, and provide an overview of California ...
Authors: Linda Rudolph, Julia Caplan, Connie Mitchell, Karen Ben-Moshe, Lianne Dillon
Tags: Public Health
September 18, 2013
---

In 2013, the Centers for Medicare & Medicaid Services (CMS) reported that the 30-day, all-cause readmission rate had decreased to 17.8 percent, after averaging 19 percent for the past 5 years. This improvement translates to 70,000 fewer readmissions in 201 ...
Authors: Risa Lavizzo-Mourey
Tags: Quality and Patient Safety
August 13, 2013
---

Although there is growing understanding that fundamental population health improvement will require multisectoral partnerships, the specific role of employers in such partnerships has been less well explored. Yet improving the health of the community where a c ...
Authors: David A. Kindig, George J. Isham, Kirstin Q. Siemering
Tags: Community Health
August 08, 2013
---
Page 41 of 50