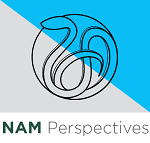 Perspectives
NAM Perspectives are expert commentaries and discussion papers by leading voices in health and health care.
Browse our latest Perspectives below.
About NAM Perspectives >>

The National Academy of Medicine's Perspectives platform extends the National Academies' convening and advising functions by providing a venue for leading health, medical, science, and policy experts to reflect on issues and opportunities important to the advancement of health, health care, and biomedical science. Perspectives are individually-authored papers that do not reflect consensus positions of the NAM, the National Academies, or the authors' organizations. They are not reports of the National Academies.

Perspectives come in two forms: commentaries, or brief, op-ed-style opinion pieces; and discussion papers, lengthier peer-reviewed articles that present research, summarize literature, report on field activities, or consider approaches to progress. Authors are not paid, and submissions must be invited by the NAM.

Perspectives are intended to advance the field by spotlighting innovative ideas; sharing information, expertise, and best practices; and promoting dialogue and collaboration among stakeholders. They are frequently cited in media; referenced in academic publications; used as background documents for meetings; adopted in course materials or organizational toolkits; and used as position statements by stakeholder groups, among other outcomes. They are the #1 driver of traffic to NAM.edu.

For more information, contact Molly Doyle at mdoyle@nas.edu.
Found 242 Results
Page 4 of 49
---
---

  Introduction Typically, the authorities and experts on public health practices are public health officials. The public expects these officials to offer important health information and guidelines to prevent disease and promote good health strategies. In time ...
Authors: Kim Parson, Marin P. Allen, Wilma Alvarado-Little, and Rima Rudd
Tags: Health Communication, health literacy
July 17, 2017
---

  Introduction In recent years, health literacy is increasingly viewed as aligning complexities and tasks with people's skills and abilities. With this understanding of health literacy, there comes a growing recognition that we, as health care providers, need ...
Authors: Ruth M. Parker and John David Ike
Tags: Health Communication, health literacy
July 17, 2017
---

  The United Nations Sustainable Development Goals (SDGs) constitute a broad and ambitious agenda for the world to achieve by 2030. Although governments are the primary drivers for implementation of the agenda, it has been widely acknowledged that public-secto ...
Authors: Jo Ivey Boufford, Renuka Gadde, Christian Acemah, George Alleyne, Simon Bland, and Brenda Colatrella
Tags: Public-Private, Sustainability
July 10, 2017
---
Page 4 of 49