function OptanonWrapper() { }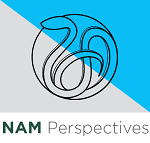 Perspectives
NAM Perspectives are expert commentaries and discussion papers by leading voices in health and health care.
Browse our latest Perspectives below and join the conversation online by using #NAMPerspectives!
ISSN 2578-6865
About NAM Perspectives >>

The National Academy of Medicine's Perspectives platform extends the National Academies' convening and advising functions by providing a venue for leading health, medical, science, and policy experts to reflect on issues and opportunities important to the advancement of health, health care, and biomedical science. Perspectives are individually-authored papers that do not reflect consensus positions of the NAM, the National Academies, or the authors' organizations. They are not reports of the National Academies.

Perspectives come in two forms: commentaries, or brief, op-ed-style opinion pieces; and discussion papers, lengthier peer-reviewed articles that present research, summarize literature, report on field activities, or consider approaches to progress. Authors are not paid, and submissions must be invited by the NAM.

Perspectives are intended to advance the field by spotlighting innovative ideas; sharing information, expertise, and best practices; and promoting dialogue and collaboration among stakeholders. They are frequently cited in media; referenced in academic publications; used as background documents for meetings; adopted in course materials or organizational toolkits; and used as position statements by stakeholder groups, among other outcomes. They are the #1 driver of traffic to NAM.edu.

For more information, contact Jenna Ogilvie at jogilvie@nas.edu.
Found 254 Results
Page 36 of 51

Climate change, health equity, social and environmental justice, sustainability: These are each hugely important and complex issues in their own right. But we cannot afford to address them separately: The root causes are the same, the stakes too high, the need ...
Authors: Solange Gould, Linda Rudolph
Tags: Environmental Health, Public Health
December 09, 2014
---

Today, most agree that achieving substantial improvements in population health and medical costs will require a greater focus on the upstream social determinants of health. I count myself among the converted, and I believe the community development sector's wo ...
Authors: Nancy Andrews
Tags: Housing, Public Health
December 09, 2014
---

Rather than rest on the seventh day, God might have put a little thought into future proofing the design of human beings. As societies age, the weaknesses in our design, combined with changing lifestyles, mean that sickness has become the normal human experien ...
Authors: Pritpal S. Tamber
December 09, 2014
---

Low-income people in this country are mired in a constant and unremitting fog of stress. This chronic stress is driven by housing insecurity, food insecurity, fear of crime, unemployment, exposure to pollution and poor education, often collectively conceptuali ...
Authors: Anthony Iton
Tags: Community Health, Public Health, Select Populations and Health Disparities
December 09, 2014
---

Improving the quality of health care requires going beyond the basic standards for health care organizations and formal clinician education. One potential strategy to improve health care quality is credentialing. Progress in credentialing research is currently ...
Authors: Ronda G. Hughes, Murielle S. Beene, Patricia C. Dykes
Tags: Health Care, Public Health
December 08, 2014
---
Page 36 of 51