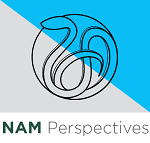 Perspectives
NAM Perspectives are expert commentaries and discussion papers by leading voices in health and health care.
Browse our latest Perspectives below.
About NAM Perspectives >>

The National Academy of Medicine's Perspectives platform extends the National Academies' convening and advising functions by providing a venue for leading health, medical, science, and policy experts to reflect on issues and opportunities important to the advancement of health, health care, and biomedical science. Perspectives are individually-authored papers that do not reflect consensus positions of the NAM, the National Academies, or the authors' organizations. They are not reports of the National Academies.

Perspectives come in two forms: commentaries, or brief, op-ed-style opinion pieces; and discussion papers, lengthier peer-reviewed articles that present research, summarize literature, report on field activities, or consider approaches to progress. Authors are not paid, and submissions must be invited by the NAM.

Perspectives are intended to advance the field by spotlighting innovative ideas; sharing information, expertise, and best practices; and promoting dialogue and collaboration among stakeholders. They are frequently cited in media; referenced in academic publications; used as background documents for meetings; adopted in course materials or organizational toolkits; and used as position statements by stakeholder groups, among other outcomes. They are the #1 driver of traffic to NAM.edu.

For more information, contact Molly Doyle at mdoyle@nas.edu.
Found 245 Results
Page 36 of 49

Though a common target for health-improving efforts, young people are not often regarded as agents of change for healthier communities. However, a growing number of successful health-supportive policy, environment, and systems-change efforts trace their impetu ...
Authors: George Flores, Mary Lou Goeke, Rigoberto Perez
September 07, 2014
---

In "Essential Stewardship Priorities for Academic Health Systems," the CEOs of five leading academic centers – BJC HealthCare, Duke University Medical Center, Henry Ford Health System, Partners HealthCare System, and UCLA Health System draw f ...
Authors: Victor Dzau, Gary Gottlieb, Steven Lipstein, Nancy Schlichting, Eugene Washington
Tags: Academic Health Systems, Biomedical and Health Research, Health Care Workforce, Public Health
September 02, 2014
---

Improving health care delivery and individual and population health and controlling health care costs requires, among other things, an effective and efficient health care system. A significant and essential component of the health care system is the clinical p ...
Authors: Jack Needleman, Robert S. Dittus, Patricia Pittman, Joanne Spetz, Robin Newhouse
Tags: Health Care Workforce
August 21, 2014
---

Many of the approximately 3 million registered nurses (RNs) in the U.S (IOM, 2011; HRSA, 2013) pursue additional credentials beyond their basic nursing education. Health care organizations, such as hospitals or nursing homes, also pursue credentials. The inten ...
Authors: Matthew D. McHugh, Richard E. Hawkins, Paul E. Mazmanian, Patrick S. Romano, Herbert L. Smith, Joanne Spetz
Tags: Health Care Workforce
August 19, 2014
---

Employers have a major impact on the U.S. health care system through their sponsorship of health benefits for more than 150 million Americans. In response to the changes occurring in the context of the Affordable Care Act, firms are reassessing and changing th ...
Authors: Robert Galvin
Tags: Health Care Workforce
August 15, 2014
---
Page 36 of 49