function OptanonWrapper() { }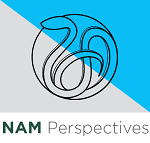 Perspectives
NAM Perspectives are expert commentaries and discussion papers by leading voices in health and health care.
Browse our latest Perspectives below and join the conversation online by using #NAMPerspectives!
ISSN 2578-6865
About NAM Perspectives >>

The National Academy of Medicine's Perspectives platform extends the National Academies' convening and advising functions by providing a venue for leading health, medical, science, and policy experts to reflect on issues and opportunities important to the advancement of health, health care, and biomedical science. Perspectives are individually-authored papers that do not reflect consensus positions of the NAM, the National Academies, or the authors' organizations. They are not reports of the National Academies.

Perspectives come in two forms: commentaries, or brief, op-ed-style opinion pieces; and discussion papers, lengthier peer-reviewed articles that present research, summarize literature, report on field activities, or consider approaches to progress. Authors are not paid, and submissions must be invited by the NAM.

Perspectives are intended to advance the field by spotlighting innovative ideas; sharing information, expertise, and best practices; and promoting dialogue and collaboration among stakeholders. They are frequently cited in media; referenced in academic publications; used as background documents for meetings; adopted in course materials or organizational toolkits; and used as position statements by stakeholder groups, among other outcomes. They are the #1 driver of traffic to NAM.edu.

For more information, contact Jenna Ogilvie at jogilvie@nas.edu.
Found 323 Results
Page 34 of 65

The first round of awards in the State Innovation Models (SIMs) Initiative by the Center for Medicare and Medicaid Innovation (CMMI) created a wave of excitement and a sense of opportunity knocking. We previously wrote that "we believe that the SIMs developed ...
Authors: James A. Hester, John Auerbach, Debbie I. Chang, Sanne Magnan, Judith Monroe
Tags: Population Health, Public-Private Partnerships, Technology and Innovation
April 16, 2015
---

Recognizing the challenges of improving health outcomes depends on a complex set of factors, many beyond the control of the health care system, a recent report from the Institute of Medicine (IOM) stresses the importance of population health measurement to ens ...
Authors: Michael A. Stoto, Colleen Ryan Smith
Tags: Coverage and Access, Health Policy and Regulation, Population Health, Quality and Safety
April 09, 2015
---

Public support is increasing for the investment in pre-kindergarten (pre-K) education for 3- and 4-year-olds.  If physical activity is going to be an integral part of pre-K education, changes are needed in the training of early childhood educators and in the p ...
Authors: Robert C. Whitaker, Jeffrey S. Gehris
Tags: Children and Families, Health Policy and Regulation, Obesity, Population Health, Prevention
April 06, 2015
---
---
---
Page 34 of 65