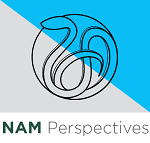 Perspectives
NAM Perspectives are expert commentaries and discussion papers by leading voices in health and health care.
Browse our latest Perspectives below.
ISSN 2578-6865
About NAM Perspectives >>

The National Academy of Medicine's Perspectives platform extends the National Academies' convening and advising functions by providing a venue for leading health, medical, science, and policy experts to reflect on issues and opportunities important to the advancement of health, health care, and biomedical science. Perspectives are individually-authored papers that do not reflect consensus positions of the NAM, the National Academies, or the authors' organizations. They are not reports of the National Academies.

Perspectives come in two forms: commentaries, or brief, op-ed-style opinion pieces; and discussion papers, lengthier peer-reviewed articles that present research, summarize literature, report on field activities, or consider approaches to progress. Authors are not paid, and submissions must be invited by the NAM.

Perspectives are intended to advance the field by spotlighting innovative ideas; sharing information, expertise, and best practices; and promoting dialogue and collaboration among stakeholders. They are frequently cited in media; referenced in academic publications; used as background documents for meetings; adopted in course materials or organizational toolkits; and used as position statements by stakeholder groups, among other outcomes. They are the #1 driver of traffic to NAM.edu.

For more information, contact Molly Doyle at mdoyle@nas.edu.
Found 251 Results
Page 32 of 51

The 25th anniversary of the Americans with Disabilities Act (ADA) this year is an opportune time for researchers, practitioners, and policy makers to begin thinking about addressing the high rates of physical inactivity among people with disabilities. Recent n ...
Authors: James H.
Tags: Food and Nutrition
April 06, 2015
---

Physiological function and resiliency decline with age, even among the most robust sectors of the older adult population. The degree to which this decline is attributable to true biological aging versus aging-related changes in lifestyle factors has been the f ...
Authors: Loretta DiPietro
Tags: Food and Nutrition
April 06, 2015
---

Native Americans represent approximately 1 percent of the U.S. population, but account for some of the worst health outcomes related to preventable chronic diseases (diabetes, heart disease, cancer, alcoholism) than any other racial or ethnic group. In conside ...
Authors: Donald Warne, Olivia Roanhorse
Tags: Food and Nutrition
April 06, 2015
---

In the decades since the establishment of the Charitable Food System (CFS), its clientele has transformed from those in short-term crisis to those who are chronically food insecure, many of whom are working, but in low wage jobs. CFS recipients, like other low ...
Authors: Elizabeth Campbell, Karen Webb, Michelle Ross, Patricia Crawford, Heather Hudson, Ken Hecht
Tags: Food and Nutrition
April 02, 2015
---

The evidentiary needs for genomic technologies are a significant barrier to the translation of genomic testing into clinical use. However, in many instances there is sufficient evidence to justify the use of genetic testing to information choice or dosage of m ...
Authors: Mary V. Relling, David L. Veenstra
Tags: Food and Nutrition
February 26, 2015
---
Page 32 of 51