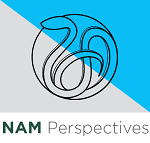 Perspectives
NAM Perspectives are expert commentaries and discussion papers by leading voices in health and health care.
Browse our latest Perspectives below.
About NAM Perspectives >>

The National Academy of Medicine's Perspectives platform extends the National Academies' convening and advising functions by providing a venue for leading health, medical, science, and policy experts to reflect on issues and opportunities important to the advancement of health, health care, and biomedical science. Perspectives are individually-authored papers that do not reflect consensus positions of the NAM, the National Academies, or the authors' organizations. They are not reports of the National Academies.

Perspectives come in two forms: commentaries, or brief, op-ed-style opinion pieces; and discussion papers, lengthier peer-reviewed articles that present research, summarize literature, report on field activities, or consider approaches to progress. Authors are not paid, and submissions must be invited by the NAM.

Perspectives are intended to advance the field by spotlighting innovative ideas; sharing information, expertise, and best practices; and promoting dialogue and collaboration among stakeholders. They are frequently cited in media; referenced in academic publications; used as background documents for meetings; adopted in course materials or organizational toolkits; and used as position statements by stakeholder groups, among other outcomes. They are the #1 driver of traffic to NAM.edu.

For more information, contact Molly Doyle at mdoyle@nas.edu.
Found 242 Results
Page 32 of 49

As public health and health care leaders embrace the challenge of improving population health, they can learn much from successful models of health system change at the local, state, and national levels. However, it is essential that they examine not only the ...
Authors: Jose T. Montero, Sharon G. Moffatt, Paul E. Jarris
Tags: Health Care Workforce, Health Services, Public Health, Select Populations and Health Disparities
February 06, 2015
---

Next-generation sequencing is increasingly used in the diagnosis and management of suspected Mendelian diseases of unknown cause and in precision medicine approaches to cancer treatment. In the course of sequencing, additional genetic information can be genera ...
Authors: Muin J Khoury, Ann Cashion, Paul R. Billings
Tags: Public Health
February 05, 2015
---

We have an innovation that is showing tremendous gains in improving health, especially among vulnerable populations. The innovation is the use of community health workers (CHWs), and, more specifically, their integration into team-based primary care. Scaling u ...
Authors: Mary Pittman, Anne Sunderland, Andrew Broderick, Kevin Barnett
Tags: Coverage and Access, Health Care Workforce, Health Services, Public Health, Select Populations and Health Disparities
February 04, 2015
---

We believe health literacy needs an inclusive professional association to flourish as an independent field of research and practice. The creation of an international, multidisciplinary, peer organization has the potential to enhance the careers of health liter ...
Authors: Sabrina Kurtz-Rossi, Robert A. Logan
Tags: Public Health
February 04, 2015
---

In its report The Future of the Public's Health in the 21st Century, the Institute of Medicine (IOM) calls for significant movement in "building a new generation of intersectoral partnerships that draw on the perspectives and resources of diverse communities a ...
Authors: Ron Bialek, Jack Moran, Micaela Kirshy
Tags: Public Health, Select Populations and Health Disparities
February 04, 2015
---
Page 32 of 49