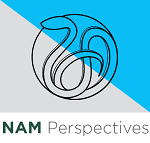 Perspectives
NAM Perspectives are expert commentaries and discussion papers by leading voices in health and health care.
Browse our latest Perspectives below.
About NAM Perspectives >>

The National Academy of Medicine's Perspectives platform extends the National Academies' convening and advising functions by providing a venue for leading health, medical, science, and policy experts to reflect on issues and opportunities important to the advancement of health, health care, and biomedical science. Perspectives are individually-authored papers that do not reflect consensus positions of the NAM, the National Academies, or the authors' organizations. They are not reports of the National Academies.

Perspectives come in two forms: commentaries, or brief, op-ed-style opinion pieces; and discussion papers, lengthier peer-reviewed articles that present research, summarize literature, report on field activities, or consider approaches to progress. Authors are not paid, and submissions must be invited by the NAM.

Perspectives are intended to advance the field by spotlighting innovative ideas; sharing information, expertise, and best practices; and promoting dialogue and collaboration among stakeholders. They are frequently cited in media; referenced in academic publications; used as background documents for meetings; adopted in course materials or organizational toolkits; and used as position statements by stakeholder groups, among other outcomes. They are the #1 driver of traffic to NAM.edu.

For more information, contact Molly Doyle at mdoyle@nas.edu.
Found 249 Results
Page 31 of 50

Public support is increasing for the investment in pre-kindergarten (pre-K) education for 3- and 4-year-olds.  If physical activity is going to be an integral part of pre-K education, changes are needed in the training of early childhood educators and in the p ...
Authors: Robert C. Whitaker, Jeffrey S. Gehris
Tags: Mental Health
April 06, 2015
---

Latino health is increasingly synonymous with the future of U.S. health, yet the nation's largest and still-growing minority group continues to live in communities with reduced access to health-promoting resources and safe, pedestrian-friendly built environmen ...
Authors: Rebecca T. Adeigbe, Amelie G. Ramirez
Tags: Food and Nutrition
April 06, 2015
---

Eliminating disparities related to physical activity (PA) among low-income and racial/ethnic minority communities (hereinafter referred to as "high-priority groups") is a complex, dynamic, and multifaceted challenge that requires complex, dynamic, and multifac ...
Authors: Wendell C. Taylor
Tags: Food and Nutrition
April 06, 2015
---

The 25th anniversary of the Americans with Disabilities Act (ADA) this year is an opportune time for researchers, practitioners, and policy makers to begin thinking about addressing the high rates of physical inactivity among people with disabilities. Recent n ...
Authors: James H.
Tags: Food and Nutrition
April 06, 2015
---

Physiological function and resiliency decline with age, even among the most robust sectors of the older adult population. The degree to which this decline is attributable to true biological aging versus aging-related changes in lifestyle factors has been the f ...
Authors: Loretta DiPietro
Tags: Food and Nutrition
April 06, 2015
---
Page 31 of 50