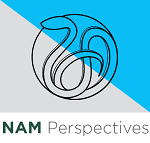 Perspectives
NAM Perspectives are expert commentaries and discussion papers by leading voices in health and health care.
Browse our latest Perspectives below.
About NAM Perspectives >>

The National Academy of Medicine's Perspectives platform extends the National Academies' convening and advising functions by providing a venue for leading health, medical, science, and policy experts to reflect on issues and opportunities important to the advancement of health, health care, and biomedical science. Perspectives are individually-authored papers that do not reflect consensus positions of the NAM, the National Academies, or the authors' organizations. They are not reports of the National Academies.

Perspectives come in two forms: commentaries, or brief, op-ed-style opinion pieces; and discussion papers, lengthier peer-reviewed articles that present research, summarize literature, report on field activities, or consider approaches to progress. Authors are not paid, and submissions must be invited by the NAM.

Perspectives are intended to advance the field by spotlighting innovative ideas; sharing information, expertise, and best practices; and promoting dialogue and collaboration among stakeholders. They are frequently cited in media; referenced in academic publications; used as background documents for meetings; adopted in course materials or organizational toolkits; and used as position statements by stakeholder groups, among other outcomes. They are the #1 driver of traffic to NAM.edu.

For more information, contact Molly Doyle at mdoyle@nas.edu.
Found 242 Results
Page 31 of 49

The evidentiary needs for genomic technologies are a significant barrier to the translation of genomic testing into clinical use. However, in many instances there is sufficient evidence to justify the use of genetic testing to information choice or dosage of m ...
Authors: Mary V. Relling, David L. Veenstra
Tags: Food and Nutrition
February 26, 2015
---

Next-generation sequencing is currently being used clinically to identify the best treatment course for cancer patients, to provide patients with a diagnosis for a previously undiagnosed disease, and to diagnose common conditions such as heart disease. In the ...
Authors: Janet K. Williams, Ann K. Cashion, P. J. Brooks
Tags: Food and Nutrition
February 19, 2015
---

The use of genome sequencing in the clinic has the potential to greatly improve the quality of care that patients receive. However, it is currently unknown how sequencing will impact the overall cost-effectiveness of medicine. This discussion paper, the fifth ...
Authors: David L. Veenstra, P. J. Brooks
Tags: Public Health
February 12, 2015
---

In Innovation and Best Practices in Health Care Scheduling, CEOs with experience leading change in five of the nation's prominent health systems-Denver Health, Geisinger Health System, Kaiser Permanente, ThedaCare Center for Healthcare Value, and Seattle Child ...
Authors: Lisa Brandenburg, Patricia Gabow, Glenn Steele, John Toussaint, Bernard J. Tyson
Tags: Health Care Workforce
February 11, 2015
---
---
Page 31 of 49