function OptanonWrapper() { }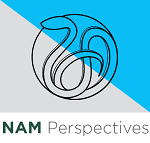 Perspectives
NAM Perspectives are expert commentaries and discussion papers by leading voices in health and health care.
Browse our latest Perspectives below and join the conversation online by using #NAMPerspectives!
ISSN 2578-6865
About NAM Perspectives >>

The National Academy of Medicine's Perspectives platform extends the National Academies' convening and advising functions by providing a venue for leading health, medical, science, and policy experts to reflect on issues and opportunities important to the advancement of health, health care, and biomedical science. Perspectives are individually-authored papers that do not reflect consensus positions of the NAM, the National Academies, or the authors' organizations. They are not reports of the National Academies.

Perspectives come in two forms: commentaries, or brief, op-ed-style opinion pieces; and discussion papers, lengthier peer-reviewed articles that present research, summarize literature, report on field activities, or consider approaches to progress. Authors are not paid, and submissions must be invited by the NAM.

Perspectives are intended to advance the field by spotlighting innovative ideas; sharing information, expertise, and best practices; and promoting dialogue and collaboration among stakeholders. They are frequently cited in media; referenced in academic publications; used as background documents for meetings; adopted in course materials or organizational toolkits; and used as position statements by stakeholder groups, among other outcomes. They are the #1 driver of traffic to NAM.edu.

For more information, contact Jenna Ogilvie at jogilvie@nas.edu.
Found 311 Results
Page 27 of 63

In early 2015, President Obama announced a $215 million investment in the 2016 budget to revolutionize health improvement efforts and disease treatment. The Precision Medicine Initiative (PMI) is a new model of patient-powered research using big data to expedi ...
Authors: Ruth M. Parker, Suzanne Bakken, and Michael S. Wolf
Tags: Biomedical Science and Research, Coverage and Access, Health Equity, Health Literacy, Health Policy and Regulation, Patient and Consumer Issues, Population Health, Precision Medicine, Technology and Innovation
February 02, 2016
---

Imagine going into a grocery store, purchasing three bags full of food, and discarding one of the bags you just purchased in the nearest garbage can as you leave the store. Does that sound ridiculous? Of course it does. But, in essence, that's what happens eve ...
Authors: Frank Yiannas
Tags: Food and Nutrition
January 27, 2016
---

Recognizing the need for greater attention worldwide to noncommunicable diseases (NCDs) such as cardiovascular disease and diabetes, implementers are increasingly putting NCD programs in place. This effort is yielding practice-based experiences and evidence th ...
Authors: Kate Greene, Natasha Sakolsky, Jessica Daly, Rebecca Dirks, Constance Kekihembo, Miriam Rabkin, and Heather White
Tags: Chronic Disease, Coverage and Access, Health Policy and Regulation, Longevity, Patient and Consumer Issues, Population Health, Prevention
January 15, 2016
---

Development of this paper was proposed during discussions of the NAM Clinical Effectiveness Research Innovation Collaborative, in which several of the authors are participants. Due to our affiliation, we use a learning health system perspective, especially as ...
Authors: Richard Platt, Christopher Dezii, Barbara Evans, Jonathan Finkelstein, Don Goldmann, Susan Huang, Gregg Meyer, Heather Pierce, Veronique Roger, Lucy Savitz, and Harry Selker
Tags: Coverage and Access, Health Policy and Regulation, Patient and Consumer Issues
December 30, 2015
---
---
Page 27 of 63