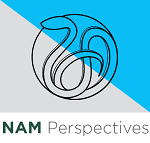 Perspectives
NAM Perspectives are expert commentaries and discussion papers by leading voices in health and health care.
Browse our latest Perspectives below.
About NAM Perspectives >>

The National Academy of Medicine's Perspectives platform extends the National Academies' convening and advising functions by providing a venue for leading health, medical, science, and policy experts to reflect on issues and opportunities important to the advancement of health, health care, and biomedical science. Perspectives are individually-authored papers that do not reflect consensus positions of the NAM, the National Academies, or the authors' organizations. They are not reports of the National Academies.

Perspectives come in two forms: commentaries, or brief, op-ed-style opinion pieces; and discussion papers, lengthier peer-reviewed articles that present research, summarize literature, report on field activities, or consider approaches to progress. Authors are not paid, and submissions must be invited by the NAM.

Perspectives are intended to advance the field by spotlighting innovative ideas; sharing information, expertise, and best practices; and promoting dialogue and collaboration among stakeholders. They are frequently cited in media; referenced in academic publications; used as background documents for meetings; adopted in course materials or organizational toolkits; and used as position statements by stakeholder groups, among other outcomes. They are the #1 driver of traffic to NAM.edu.

For more information, contact Molly Doyle at mdoyle@nas.edu.
Found 242 Results
Page 27 of 49
---

Despite a rigorous approval process, there is always uncertainty about newly approved drugs: will the benefits observed in initial approval studies hold up over time?  Will side effects emerge? Uncertainty is amplified when drugs receive accelerated approval b ...
Authors: Lisa Schwartz and Steven Woloshin
Tags: Drug Research, Health Communication, Safety
September 11, 2015
---
---

A core aim for improving health care is to provide equitable care or "care that does not vary in quality because of personal characteristics such as gender, ethnicity, geographic location, and socioeconomic status." We believe that an essential ingredient in t ...
Authors: Robert A. Logan, National Library of Medicine; Winston F. Wong, Kaiser Permanente; Michael Villaire, Institute for Healthcare Advancement; Gem Daus, Health Resources and Services Administration; Terri Ann Parnell, Health Literacy Partners, Earnestine Willis, Medical College of Wisconsin, and Michael K. Paasche-Orlow, Boston University School of Medicine
Tags: health equity, health literacy
July 24, 2015
---

Not only does the United States spend more per capita on medical care than any other nation, and more than twice as much as the average for all other countries in the Organisation for Economic Co-operation and Development, it spends more on medical research as ...
Authors: Catherine Chanfreau-Coffinier, Steven M. Teutsch, Jonathan E. Fielding
Tags: Public Health
June 23, 2015
---
Page 27 of 49