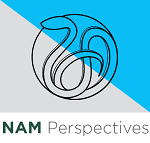 Perspectives
NAM Perspectives are expert commentaries and discussion papers by leading voices in health and health care.
Browse our latest Perspectives below.
About NAM Perspectives >>

The National Academy of Medicine's Perspectives platform extends the National Academies' convening and advising functions by providing a venue for leading health, medical, science, and policy experts to reflect on issues and opportunities important to the advancement of health, health care, and biomedical science. Perspectives are individually-authored papers that do not reflect consensus positions of the NAM, the National Academies, or the authors' organizations. They are not reports of the National Academies.

Perspectives come in two forms: commentaries, or brief, op-ed-style opinion pieces; and discussion papers, lengthier peer-reviewed articles that present research, summarize literature, report on field activities, or consider approaches to progress. Authors are not paid, and submissions must be invited by the NAM.

Perspectives are intended to advance the field by spotlighting innovative ideas; sharing information, expertise, and best practices; and promoting dialogue and collaboration among stakeholders. They are frequently cited in media; referenced in academic publications; used as background documents for meetings; adopted in course materials or organizational toolkits; and used as position statements by stakeholder groups, among other outcomes. They are the #1 driver of traffic to NAM.edu.

For more information, contact Molly Doyle at mdoyle@nas.edu.
Found 242 Results
Page 26 of 49

Improving population health at a national and global scale through equitable access to healthy places will require a comprehensive change of practice in the real estate industry. Traditional public health interventions, used in isolation, are often not well su ...
Authors: Matthew Trowbridge, Chris Pyke, Kelly Worden
Tags: Public Health, Sustainability
November 05, 2015
---

In this paper, we will share our perspectives—shaped by our collective experiences in public health, private health delivery organizations, and academic medical centers—on the theme of multi-sector collaboration: why it is imperative, obstacles that can impede ...
Authors: Lawrence Prybil, Paul Jarris, and José Montero
Tags: Public-Private
November 03, 2015
---

João is a sales representative for a major company in Brazil. Every day, he climbs onto his motorcycle and rides from client to client through the busy streets of Sao Paulo. João is young, bright, and excellent at his job. He doesn't think about road safety to ...
Authors: Allison Goldberg, Hugh Foley, Brandon Folck, Sue Gallagher, Dale Herzog, Rubina Ohanian, Scott Ratzan, and Ken Woodlin
Tags: Global Health, Infastructure, Population Health
October 20, 2015
---

Health care and public health are finding common—but conflicted—ground in population health. Current discussions in the two fields are collecting a large and growing set of tools, but with little clarity about which are appropriate for exactly what kind of wor ...
Authors: Gary Gunderson, Teresa Cutts, and James Cochrane
Tags: Health Care, Population Health, Public Health, Select Populations and Health Disparities
October 15, 2015
---

In 2014, the Institute of Medicine (IOM) held the second annual District of Columbia (DC) Public Health Case Challenge. The IOM collaborated with faculty and students from Georgetown University to develop this competition, which had its inaugural year in 2013 ...
Authors: Amy Geller, Sarah Baden, Holly Berkley, Viraj Bhatt, Emilie Biondokin, Leah Broadhurst, Mamta Chaudhari, Cameron Clarke, Ayramana Correa, Chandani Desai, Sandy Fulkerson Schaeffer, Jolynn Gardner, Carrie Gillispie, Morgan Harvey, Caitlin Ingraham, Demi Lewis, Atila Libutsi, William Patrick Luan, Samuel McAleese, Courtney Middlebrook, Asad Moten, Sara Mullery, Kalpana Parvathaneni, Adria Peterkin, Nathan Praschan, Erin Prendergast, Uneeb Qureshi, Hannah Risheq, Neil Shelat, Brandon Shumway, Kristin Wertin, and Sophie Yang.
Tags: Public Health
October 14, 2015
---
Page 26 of 49