function OptanonWrapper() { }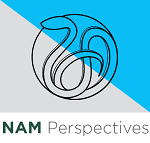 Perspectives
NAM Perspectives are expert commentaries and discussion papers by leading voices in health and health care.
Browse our latest Perspectives below and join the conversation online by using #NAMPerspectives!
ISSN 2578-6865
About NAM Perspectives >>

The National Academy of Medicine's Perspectives platform extends the National Academies' convening and advising functions by providing a venue for leading health, medical, science, and policy experts to reflect on issues and opportunities important to the advancement of health, health care, and biomedical science. Perspectives are individually-authored papers that do not reflect consensus positions of the NAM, the National Academies, or the authors' organizations. They are not reports of the National Academies.

Perspectives come in two forms: commentaries, or brief, op-ed-style opinion pieces; and discussion papers, lengthier peer-reviewed articles that present research, summarize literature, report on field activities, or consider approaches to progress. Authors are not paid, and submissions must be invited by the NAM.

Perspectives are intended to advance the field by spotlighting innovative ideas; sharing information, expertise, and best practices; and promoting dialogue and collaboration among stakeholders. They are frequently cited in media; referenced in academic publications; used as background documents for meetings; adopted in course materials or organizational toolkits; and used as position statements by stakeholder groups, among other outcomes. They are the #1 driver of traffic to NAM.edu.

For more information, contact Jenna Ogilvie at jogilvie@nas.edu.
Found 254 Results
Page 25 of 51

Similar to the national rates of high blood pressure, data from the Behavioral Risk Factor Surveillance System indicate that the New Hampshire rate of hypertension is just over 30 percent. Heart disease is the second leading cause of death in New Hampshire, an ...
Authors: Kimberly Persson
Tags: Clinical Care, Community Health, Public Health
March 31, 2016
---

Morbidity and mortality resulting from influenza have remained high in the United States despite efforts to vaccinate high-risk populations, leading public health officials to expand their vaccination recommendations to include schoolchildren. Vaccinating scho ...
Authors: Jennifer L. Brickley, Tammy L. Schmit, Lila J. Finney Rutten, Jennifer L. St. Sauver, Karen L. Ytterberg, and Robert M. Jacobson
Tags: Children, Community Health, Population Health
March 29, 2016
---

Poor health is both a cause and a result of homelessness. According to the National Health Care for the Homeless Council, people who are homeless are three to six times more likely to become ill than those with stable housing and three to four times more likel ...
Authors: John Lovelace
Tags: Population Health, Public Health, Select Populations and Health Disparities
March 29, 2016
---

Over the past several years, the Roundtable on Obesity Solutions has convened experts across a variety of sectors and disciplines to explore the most promising approaches to prevent and treat obesity. Last April, the Roundtable convened a workshop, titled Phys ...
Authors: Natalie Digate Muth
Tags: Children, Food and Nutrition, Physical Activity
March 22, 2016
---

As a physical educator and now the director of health and physical education (PE) for a large urban school district, I constantly struggle for funding, appropriate scheduling, and sufficient space for quality PE classes, recess, and other physical activity opp ...
Authors: Georgi Roberts
Tags: Children, Food and Nutrition, Physical Activity
March 22, 2016
---
Page 25 of 51