function OptanonWrapper() { }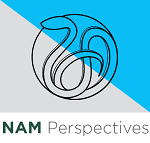 Perspectives
NAM Perspectives are expert commentaries and discussion papers by leading voices in health and health care.
Browse our latest Perspectives below and join the conversation online by using #NAMPerspectives!
ISSN 2578-6865
About NAM Perspectives >>

The National Academy of Medicine's Perspectives platform extends the National Academies' convening and advising functions by providing a venue for leading health, medical, science, and policy experts to reflect on issues and opportunities important to the advancement of health, health care, and biomedical science. Perspectives are individually-authored papers that do not reflect consensus positions of the NAM, the National Academies, or the authors' organizations. They are not reports of the National Academies.

Perspectives come in two forms: commentaries, or brief, op-ed-style opinion pieces; and discussion papers, lengthier peer-reviewed articles that present research, summarize literature, report on field activities, or consider approaches to progress. Authors are not paid, and submissions must be invited by the NAM.

Perspectives are intended to advance the field by spotlighting innovative ideas; sharing information, expertise, and best practices; and promoting dialogue and collaboration among stakeholders. They are frequently cited in media; referenced in academic publications; used as background documents for meetings; adopted in course materials or organizational toolkits; and used as position statements by stakeholder groups, among other outcomes. They are the #1 driver of traffic to NAM.edu.

For more information, contact Jenna Ogilvie at jogilvie@nas.edu.
Found 323 Results
Page 25 of 65

In a list of 17 high-income countries, the United States ranks last in terms of life expectancy for males and second-to-last for females. The U.S. population also experiences worse outcomes compared with its peers in nine key areas: infant mortality and low bi ...
Authors: Anne Riley, Ezekiel Dixon-Román, Barbara Entwisle, Ruth Etzel, Ann Masten, Kerry Anne McGeary, and Hirokazu Yoshikawa
Tags: Aging, Children and Families, Chronic Disease, Coverage and Access, Environmental Health, Health Disparities, Health Equity, Health Policy and Regulation, Immunization, Infectious Disease, Longevity, Mental Health and Substance Use, Obesity, Patient and Consumer Issues, Population Health, Prevention, Public Health, Social Determinants of Health, Womens Health
May 31, 2016
---

Social determinants of health, a short phrase that captures a broad array of issues, are some of the key reasons why health care reform alone will not eliminate health disparities in the United States. Social problems, such as food security, housing, and emplo ...
Authors: Eric W. Fleegler, Clement J. Bottino, Aaron Pikcilingis, Beth Baker, Emmett Kistler, and Areej Hassan
Tags: Children and Families, Coverage and Access, Health Disparities, Health Equity, Health Policy and Regulation, Population Health, Public Health, Social Determinants of Health
May 27, 2016
---

Increasingly over the past decade, health literacy researchers and practitioners have been turning their attention to issues of numeracy, recognizing that numeric tasks related to a wide array of health activities have not been sufficiently examined or address ...
Authors: Rima E. Rudd
Tags: Health Literacy
May 17, 2016
---

Tobacco use remains the leading cause of preventable premature death and illness in Denver. Specifically, tobacco is a major contributor to four of the top 10 leading causes of death in Denver: cardiovascular disease, cancer, chronic lung disease, and influenz ...
Authors: Tracey A. Richers Maruyama, Theresa Mickiewicz, Ava Cannon, Teddy Montoya, Santos Diaz, Erica Berg, Daniel Kortsch, Ali Zirakzadeh, and Judith C. Shlay
Tags: Health Disparities, Health Equity, Longevity, Mental Health and Substance Use, Population Health, Prevention
May 06, 2016
---

In rural western Massachusetts, a coalition with members from many sectors of the community has been working for more than a decade to support youth well-being and reduce youth substance abuse. In that time, youth drinking, cigarette smoking, and marijuana use ...
Authors: Jeanette Voas, Katherine Allen, and Ruth Potee
Tags: Children and Families, Coverage and Access, Health Disparities, Longevity, Mental Health and Substance Use, Population Health, Prevention, Social Determinants of Health
May 06, 2016
---
Page 25 of 65