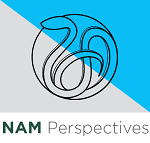 Perspectives
NAM Perspectives are expert commentaries and discussion papers by leading voices in health and health care.
Browse our latest Perspectives below.
About NAM Perspectives >>

The National Academy of Medicine's Perspectives platform extends the National Academies' convening and advising functions by providing a venue for leading health, medical, science, and policy experts to reflect on issues and opportunities important to the advancement of health, health care, and biomedical science. Perspectives are individually-authored papers that do not reflect consensus positions of the NAM, the National Academies, or the authors' organizations. They are not reports of the National Academies.

Perspectives come in two forms: commentaries, or brief, op-ed-style opinion pieces; and discussion papers, lengthier peer-reviewed articles that present research, summarize literature, report on field activities, or consider approaches to progress. Authors are not paid, and submissions must be invited by the NAM.

Perspectives are intended to advance the field by spotlighting innovative ideas; sharing information, expertise, and best practices; and promoting dialogue and collaboration among stakeholders. They are frequently cited in media; referenced in academic publications; used as background documents for meetings; adopted in course materials or organizational toolkits; and used as position statements by stakeholder groups, among other outcomes. They are the #1 driver of traffic to NAM.edu.

For more information, contact Molly Doyle at mdoyle@nas.edu.
Found 242 Results
Page 24 of 49

Diabetes challenges the nation's health in many ways. As of 2012, one in 11 Americans was living with the disease, and two in five Americans will be diagnosed with it during their lifetimes. In 2009–2012, three in eight adults had prediabetes. One in three Med ...
Authors: Rachel Bright and Brian Sakurada
Tags: Diabetes, Diseases, Population Health
February 24, 2016
---

Unlike with most food additives, the safety evaluation of macronutrients poses a challenge to risk assessors because of their inherent nutritional value and relatively large dietary exposure. A safety assessment model of macronutrients based solely on traditio ...
Authors: Joseph A. Scimeca
Tags: Food and Nutrition, Quality and Patient Safety, Technology
February 11, 2016
---

The long delay between the creation of new evidence for primary prevention by public health and widespread adoption into best practice by the health care system is well documented and a source of great frustration. The roots of this delay are complex and lie d ...
Authors: James Hester, John Auerbach, Laura Seeff, Jocelyn Wheaton, Kristin Brusuelas, and Christa Singleton
Tags: Population Health, Public Health
February 08, 2016
---

In early 2015, President Obama announced a $215 million investment in the 2016 budget to revolutionize health improvement efforts and disease treatment. The Precision Medicine Initiative (PMI) is a new model of patient-powered research using big data to expedi ...
Authors: Ruth M. Parker, Suzanne Bakken, and Michael S. Wolf
Tags: health literacy, Population Health, Precision Medicine
February 02, 2016
---

Imagine going into a grocery store, purchasing three bags full of food, and discarding one of the bags you just purchased in the nearest garbage can as you leave the store. Does that sound ridiculous? Of course it does. But, in essence, that's what happens eve ...
Authors: Frank Yiannas
Tags: Food and Nutrition, Food Waste, Sustainability
January 27, 2016
---
Page 24 of 49