function OptanonWrapper() { }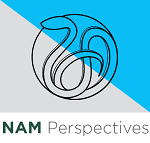 Perspectives
NAM Perspectives are expert commentaries and discussion papers by leading voices in health and health care.
Browse our latest Perspectives below and join the conversation online by using #NAMPerspectives!
ISSN 2578-6865
About NAM Perspectives >>

The National Academy of Medicine's Perspectives platform extends the National Academies' convening and advising functions by providing a venue for leading health, medical, science, and policy experts to reflect on issues and opportunities important to the advancement of health, health care, and biomedical science. Perspectives are individually-authored papers that do not reflect consensus positions of the NAM, the National Academies, or the authors' organizations. They are not reports of the National Academies.

Perspectives come in two forms: commentaries, or brief, op-ed-style opinion pieces; and discussion papers, lengthier peer-reviewed articles that present research, summarize literature, report on field activities, or consider approaches to progress. Authors are not paid, and submissions must be invited by the NAM.

Perspectives are intended to advance the field by spotlighting innovative ideas; sharing information, expertise, and best practices; and promoting dialogue and collaboration among stakeholders. They are frequently cited in media; referenced in academic publications; used as background documents for meetings; adopted in course materials or organizational toolkits; and used as position statements by stakeholder groups, among other outcomes. They are the #1 driver of traffic to NAM.edu.

For more information, contact Jenna Ogilvie at jogilvie@nas.edu.
Found 323 Results
Page 23 of 65
---

Health plans and accountable care organizations measure many indicators of patient health, with standard metrics that track factors such as patient experience and cost. They lack, however, a summary measure of the third leg of the Triple Aim, population health ...
Authors: Thomas E. Kottke, Jason M. Gallagher, Sachin Rauri, Juliana O. Tillema, Nicolaas P. Pronk and Susan M. Knudson
Tags: Health Disparities, Health Equity, Health Policy and Regulation, Population Health, Quality and Safety
July 07, 2016
---
---

The foundational importance of social, environmental, and economic factors as determinants of health has long been recognized. Until recently, this recognition had resulted in few sustained, organized efforts to positively influence these determinants to foste ...
Authors: Denise Koo, Patrick W. O'Carroll, Andrea Harris, and Karen B. DeSalvo
Tags: Coverage and Access, Health Disparities, Health Equity, Patient and Consumer Issues, Population Health, Public Health, Public-Private Partnerships, Social Determinants of Health
June 30, 2016
---

In this paper we discuss the importance of the efforts of community health representatives to improve general health on the Navajo reservation and describe the need for new efforts focused on preparing CHRs to act as catalysts for helping improve the oral heal ...
Authors: Steven P. Geiermann, Mae-Gilene Begay, Lindsey Robinson, and Sharon Clough
Tags: Children and Families, Coverage and Access, Diversity and Inclusion, Food and Nutrition, Health Disparities, Oral Health, Population Health
June 23, 2016
---
Page 23 of 65