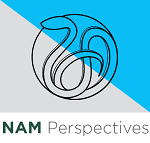 Perspectives
NAM Perspectives are expert commentaries and discussion papers by leading voices in health and health care.
Browse our latest Perspectives below.
About NAM Perspectives >>

The National Academy of Medicine's Perspectives platform extends the National Academies' convening and advising functions by providing a venue for leading health, medical, science, and policy experts to reflect on issues and opportunities important to the advancement of health, health care, and biomedical science. Perspectives are individually-authored papers that do not reflect consensus positions of the NAM, the National Academies, or the authors' organizations. They are not reports of the National Academies.

Perspectives come in two forms: commentaries, or brief, op-ed-style opinion pieces; and discussion papers, lengthier peer-reviewed articles that present research, summarize literature, report on field activities, or consider approaches to progress. Authors are not paid, and submissions must be invited by the NAM.

Perspectives are intended to advance the field by spotlighting innovative ideas; sharing information, expertise, and best practices; and promoting dialogue and collaboration among stakeholders. They are frequently cited in media; referenced in academic publications; used as background documents for meetings; adopted in course materials or organizational toolkits; and used as position statements by stakeholder groups, among other outcomes. They are the #1 driver of traffic to NAM.edu.

For more information, contact Molly Doyle at mdoyle@nas.edu.
Found 242 Results
Page 21 of 49

In rural western Massachusetts, a coalition with members from many sectors of the community has been working for more than a decade to support youth well-being and reduce youth substance abuse. In that time, youth drinking, cigarette smoking, and marijuana use ...
Authors: Jeanette Voas, Katherine Allen, and Ruth Potee
May 06, 2016
---

Individuals make decisions about health and well-being every day. Many of those decisions involve using and understanding numbers, and most of the decisions are made quickly, at home or at work, as a person goes about a daily routine. Even with adequate time, ...
Authors: Andrew Pleasant, Megan Rooney, Catina O'Leary, Laurie Myers, and Rima Rudd
May 05, 2016
---

Overweight and obesity, and their negative sequelae, have become the focus of policy makers, business leaders, health care systems, and the general public in the United States and globally. Currently, one in three children and adolescents in the United States ...
Authors: Craig W. Moscetti, Jane K. Haws, Craig B. Malm, and Nicolaas P. Pronk
Tags: Children, Food and Nutrition, Obesity
May 03, 2016
---

The fragmented nature of the delivery and financing of health care in the United States, coupled with misdirected incentives dominating the payment structure, has driven national expenditures to be the highest in the world for health outcomes that are, at best ...
Authors: Bruce Bodaken, Richard Bankowitz, Timothy Ferris, Jim Hansen, John Hirshleifer, Scott Kronlund, David Labby, Rick MacCornack, Mark McClellan, and Lewis Sandy
Tags: Accountable Care, Affordable Care Act, Coverage and Access
April 21, 2016
---

In "A New Perspective on the Health of Canadians," Marc Lalonde, the Canadian Minister of National Health and Welfare, concluded that health care does not have the power to fully mitigate the threats posed by unhealthful environments and behaviors. This 1974 r ...
Authors: Thomas E. Kottke, Matt Stiefel, and Nicolaas P. Pronk
Tags: health policy, Population Health, Public Health
April 14, 2016
---
Page 21 of 49