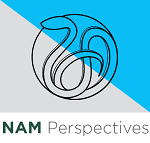 Perspectives
NAM Perspectives are expert commentaries and discussion papers by leading voices in health and health care.
Browse our latest Perspectives below.
About NAM Perspectives >>

The National Academy of Medicine's Perspectives platform extends the National Academies' convening and advising functions by providing a venue for leading health, medical, science, and policy experts to reflect on issues and opportunities important to the advancement of health, health care, and biomedical science. Perspectives are individually-authored papers that do not reflect consensus positions of the NAM, the National Academies, or the authors' organizations. They are not reports of the National Academies.

Perspectives come in two forms: commentaries, or brief, op-ed-style opinion pieces; and discussion papers, lengthier peer-reviewed articles that present research, summarize literature, report on field activities, or consider approaches to progress. Authors are not paid, and submissions must be invited by the NAM.

Perspectives are intended to advance the field by spotlighting innovative ideas; sharing information, expertise, and best practices; and promoting dialogue and collaboration among stakeholders. They are frequently cited in media; referenced in academic publications; used as background documents for meetings; adopted in course materials or organizational toolkits; and used as position statements by stakeholder groups, among other outcomes. They are the #1 driver of traffic to NAM.edu.

For more information, contact Molly Doyle at mdoyle@nas.edu.
Found 239 Results
Page 19 of 48

Investing in young children globally is a primary means of achieving sustainable human, social, and economic development, all of which are vital to ensuring international peace and security. Strategic investments in children have been recognized by the world's ...
Authors: G. Huebner, N. Boothby, J. L. Aber, G. L. Darmstadt, A. Diaz, A. S. Masten, H. Yoshikawa, I. Redlener, A. Emmel, M. Pitt, L. Arnold, B. Barber, B. Berman, R. Blum, M. Canavera, J. Eckerle, N. A. Fox, J. L. Gibbons, S. W. Hargarten, C. Landers, C. A. Nelson III, S. D. Pollak, V. Rauh, M. Samson, F. Ssewamala, N. St Clair, L. Stark, R. Waldman, M. Wessells, S. L. Wilson, and C. H. Zeanah
Tags: Children Youth and Familes, Children's health, Community Health, Youth and Families
June 16, 2016
---

TW: Suicide Every year an estimated 400 U.S. physicians take their lives. Numerous global studies involving every medical and surgical specialty indicate that approximately 1 in 3 physicians is experiencing burnout at any given time. Medical students appear to ...
Authors: Sandeep Kishore, Douglas E. Dandurand, Angela Mathew, and David Rothenberger
Tags: Clinician Resilience, Clinician Well Being, Mental Health, Physician Suicide, Suicide
June 03, 2016
---

As we outlined in the previous paper in this series, our nation needs foundational data in order to understand how social, physical, chemical, and nutritional environments interact to impact how Americans grow, live, and prosper. To satisfy this need, we propo ...
Authors: Greg Duncan, Virginia Lesser, Barbara Entwisle, Graham Kalton, Andy Shih, Elaine Faustman, Rosalind Wright, Kerry Anne McGeary, Richard Gershon, Steven Wysmuller, Shelley Merritt, and Charlee Alexander
Tags: Children, Children Youth and Familes, Children's health, Community Health, Population Health, Youth and Families
May 31, 2016
---

In a list of 17 high-income countries, the United States ranks last in terms of life expectancy for males and second-to-last for females. The U.S. population also experiences worse outcomes compared with its peers in nine key areas: infant mortality and low bi ...
Authors: Anne Riley, Ezekiel Dixon-Román, Barbara Entwisle, Ruth Etzel, Ann Masten, Kerry Anne McGeary, and Hirokazu Yoshikawa
Tags: Children, Children Youth and Familes, Community Health, Population Health, Youth and Families
May 31, 2016
---

Social determinants of health, a short phrase that captures a broad array of issues, are some of the key reasons why health care reform alone will not eliminate health disparities in the United States. Social problems, such as food security, housing, and emplo ...
Authors: Eric W. Fleegler, Clement J. Bottino, Aaron Pikcilingis, Beth Baker, Emmett Kistler, and Areej Hassan
Tags: health equity, Population Health, Public Health, Select Populations and Health Disparities, Technology
May 27, 2016
---
Page 19 of 48