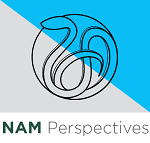 Perspectives
NAM Perspectives are expert commentaries and discussion papers by leading voices in health and health care.
Browse our latest Perspectives below.
About NAM Perspectives >>

The National Academy of Medicine's Perspectives platform extends the National Academies' convening and advising functions by providing a venue for leading health, medical, science, and policy experts to reflect on issues and opportunities important to the advancement of health, health care, and biomedical science. Perspectives are individually-authored papers that do not reflect consensus positions of the NAM, the National Academies, or the authors' organizations. They are not reports of the National Academies.

Perspectives come in two forms: commentaries, or brief, op-ed-style opinion pieces; and discussion papers, lengthier peer-reviewed articles that present research, summarize literature, report on field activities, or consider approaches to progress. Authors are not paid, and submissions must be invited by the NAM.

Perspectives are intended to advance the field by spotlighting innovative ideas; sharing information, expertise, and best practices; and promoting dialogue and collaboration among stakeholders. They are frequently cited in media; referenced in academic publications; used as background documents for meetings; adopted in course materials or organizational toolkits; and used as position statements by stakeholder groups, among other outcomes. They are the #1 driver of traffic to NAM.edu.

For more information, contact Molly Doyle at mdoyle@nas.edu.
Found 250 Results
Page 18 of 50

The phrase "democratizing health care" is gaining popularity in discussions about how technology is enabling consumers to better manage their health-related behaviors and to participate more fully in decisions about treatment. The effect is re-shaping the powe ...
Authors: George Flores
Tags: Community Health, Population Health
September 16, 2016
---

From our perspective, dental caries continues to be one of the most common chronic diseases in the United States and globally, with individuals living in poverty and minorities being affected more than their more affluent peers. Dental caries (commonly referre ...
Authors: Rebecca L. Slayton, Margherita Fontana, Douglas Young, Norman Tinanoff, Brian Nový, Ruth D. Lipman, and Lindsey Robinson
Tags: Children Youth and Familes, Dental Care, Dental Health
September 14, 2016
---

Homelessness is a major issue in the United States. Among adults, military veterans are at increased risk. Studies continue to highlight the greater demand that homeless veterans place on emergency rooms and their increased risk for all-cause mortality, psycho ...
Authors: Michael R. Wehrer, Michael A. Tomlinson, Kenneth T. Jones, and Uchenna S. Uchendu
Tags: health equity, Homelessness, Population Health
September 08, 2016
---

In this Perspective, the authors aim to facilitate the growth of learning health environments by highlighting strategies and examples of operational and research collaborations within delivery system settings in the United States. Informed by empirical data, c ...
Authors: Edward Abraham, Carlos Blanco, Celeste Castillo Lee, Jennifer B. Christian, Nancy Kass, Eric B. Larson, Madhu Mazumdar, Stephanie Morain, Katherine M. Newton, Alexander Ommaya, Bray Patrick-Lake, Richard Platt, John Steiner, Maryan Zirkle, Marianne Hamilton Lopez
Tags: Continuously Learning Health System, Health Data, Quality and Patient Safety, Research
September 06, 2016
---

The transformation of the U.S. health care delivery system is under way. As health care providers and community-based partners recognize the impact of the multifaceted determinants of health that extend beyond the clinical setting, there is an "opportunity for ...
Authors: Daniella Gratale and Alisa Haushalter
Tags: Asthma, Children Youth and Familes, Children's health, Population Health, Public Health
September 01, 2016
---
Page 18 of 50