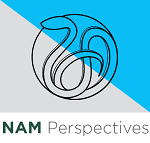 Perspectives
NAM Perspectives are expert commentaries and discussion papers by leading voices in health and health care.
Browse our latest Perspectives below.
About NAM Perspectives >>

The National Academy of Medicine's Perspectives platform extends the National Academies' convening and advising functions by providing a venue for leading health, medical, science, and policy experts to reflect on issues and opportunities important to the advancement of health, health care, and biomedical science. Perspectives are individually-authored papers that do not reflect consensus positions of the NAM, the National Academies, or the authors' organizations. They are not reports of the National Academies.

Perspectives come in two forms: commentaries, or brief, op-ed-style opinion pieces; and discussion papers, lengthier peer-reviewed articles that present research, summarize literature, report on field activities, or consider approaches to progress. Authors are not paid, and submissions must be invited by the NAM.

Perspectives are intended to advance the field by spotlighting innovative ideas; sharing information, expertise, and best practices; and promoting dialogue and collaboration among stakeholders. They are frequently cited in media; referenced in academic publications; used as background documents for meetings; adopted in course materials or organizational toolkits; and used as position statements by stakeholder groups, among other outcomes. They are the #1 driver of traffic to NAM.edu.

For more information, contact Molly Doyle at mdoyle@nas.edu.
Found 239 Results
Page 17 of 48

The Patient Protection and Affordable Care Act (ACA) has dramatically changed the health care landscape, creating new opportunities to advance health promotion, prevention, and treatment for children, parents, and families. However, the programmatic and ...
Authors: Purva Rawal and Mary Ann McCabe
Tags: Accountable Care, Affordable Care Act, Behavioral Health, Children's health, Substance Abuse and Mental Health, Youth and Families
July 27, 2016
---

Measurement is a critical tool for monitoring progress and driving improvement in health care. However, without meaningful coordination and management—particularly when public reporting is required—the effectiveness of measurement activities is limited and the ...
Authors: Nancy E. Dunlap, David J. Ballard, Robert A. Cherry, Wm. Claiborne Dunagan, Will Ferniany, Aaron C. Hamilton, Thomas A. Owens, Terry Rusconi, Steven M. Safyer, Paula J. Santrach, Abby Sears, Michael R. Waldrum and Kathleen E. Walsh
Tags: Accountable Care, Affordable Care Act, Health Metrics
July 25, 2016
---

I am sure many of you do not want to hear the word "audit" now that tax season is over, but the type of audit I am going to write about can be fun and enlightening. A food waste audit can help any organization better understand how much food, which types of fo ...
Authors: Jimmy Nguyen
Tags: Environmental Health, Food and Nutrition, Food Waste
July 21, 2016
---

Declining or stagnant research and development (R&D) productivity has led many observers to argue that the current paradigm for drug discovery and development requires disruptive innovation to break out of a current crisis by identifying and rapidly bringi ...
Authors: Bernard H. Munos, John J. Orloff
Tags: Drug Research, Pharmaceuticals
July 20, 2016
---

Health plans and accountable care organizations measure many indicators of patient health, with standard metrics that track factors such as patient experience and cost. They lack, however, a summary measure of the third leg of the Triple Aim, population health ...
Authors: Thomas E. Kottke, Jason M. Gallagher, Sachin Rauri, Juliana O. Tillema, Nicolaas P. Pronk and Susan M. Knudson
Tags: Accountable Care, Population Health, Public Health
July 07, 2016
---
Page 17 of 48