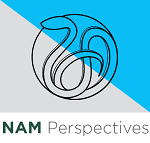 Perspectives
NAM Perspectives are expert commentaries and discussion papers by leading voices in health and health care.
Browse our latest Perspectives below.
About NAM Perspectives >>

The National Academy of Medicine's Perspectives platform extends the National Academies' convening and advising functions by providing a venue for leading health, medical, science, and policy experts to reflect on issues and opportunities important to the advancement of health, health care, and biomedical science. Perspectives are individually-authored papers that do not reflect consensus positions of the NAM, the National Academies, or the authors' organizations. They are not reports of the National Academies.

Perspectives come in two forms: commentaries, or brief, op-ed-style opinion pieces; and discussion papers, lengthier peer-reviewed articles that present research, summarize literature, report on field activities, or consider approaches to progress. Authors are not paid, and submissions must be invited by the NAM.

Perspectives are intended to advance the field by spotlighting innovative ideas; sharing information, expertise, and best practices; and promoting dialogue and collaboration among stakeholders. They are frequently cited in media; referenced in academic publications; used as background documents for meetings; adopted in course materials or organizational toolkits; and used as position statements by stakeholder groups, among other outcomes. They are the #1 driver of traffic to NAM.edu.

For more information, contact Molly Doyle at mdoyle@nas.edu.
Found 242 Results
Page 15 of 49

We have a long way to go to strengthen the public health system to provide adequate protection for communities. Dollar for dollar our health care expenditures fail to provide us with good health at the most basic level as measured by life expectancy and infant ...
Authors: Lynn Goldman, Georges Benjamin, Sandra Hernández, David Kindig, Shiriki Kumanyika, Carmen Nevarez, Nirav R. Shah, and Winston Wong
Tags: Community Health, Population Health, Public Health, Vital Directions
September 19, 2016
---

Major achievements in scientific research have enabled a new era of health-care delivery and treatment. Understanding of the underlying mechanisms of diseases is increasing and allowing scientists to develop new drugs, targeted therapies, and preventive strate ...
Authors: Victor J. Dzau, Geoffrey S. Ginsburg, Aneesh Chopra, Dana Goldman, Eric D. Green, Debra G. B. Leonard, Mark McClellan, Andrew Plump, Sharon F. Terry, and Keith R. Yamamoto
Tags: Precision Medicine, Vital Directions
September 19, 2016
---

Smoking, obesity, inactivity, and excess intakes of added sugar, saturated fats, and salt are major contributors to the rates of chronic disease in the United States, and the prevalence and costs of chronic diseases associated with those modifiable behaviors a ...
Authors: William H. Dietz, Ross C. Brownson, Clifford E. Douglas, John J. Dreyzehner, Ron Z. Goetzel, Steven L. Gortmaker, James S. Marks, Kathleen A. Merrigan, Russell R. Pate, Lisa M. Powell, and Mary Story
Tags: Chronic Disease, Food and Nutrition, Obesity, Physical Activity, Tobacco, Vital Directions
September 19, 2016
---

Over the last 20 years, the United States has witnessed a shift from little readily available information about the performance of the health-care system to the use of a wide variety of measures in different ways by multiple entities. The explosion of performa ...
Authors: Peter J. Pronovost, J. Matthew Austin, Christine K. Cassel, Suzanne F. Delbanco, Ashish K. Jha, Bob Kocher, Elizabeth A. McGlynn, Lewis G. Sandy, and John Santa
Tags: Accountable Care, Health Data, Quality and Patient Safety, Vital Directions
September 19, 2016
---

As health-care spending has risen, employers have tried to alleviate the pressure on premiums and wages by increasing patients' cost-sharing at the point of service. Since 2010, deductibles have increased by 67% and premiums by 24% compared with only a 10% inc ...
Authors: Michael E. Chernew, A. Mark Fendrick, Sherry Glied, Karen Ignagni, Stephen Parente, Jamie Robinson, and Gail R. Wilensky
Tags: Accountable Care, Affordable Care Act, Coverage and Access, Vital Directions
September 19, 2016
---
Page 15 of 49