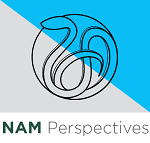 Perspectives
NAM Perspectives are expert commentaries and discussion papers by leading voices in health and health care.
Browse our latest Perspectives below.
About NAM Perspectives >>

The National Academy of Medicine's Perspectives platform extends the National Academies' convening and advising functions by providing a venue for leading health, medical, science, and policy experts to reflect on issues and opportunities important to the advancement of health, health care, and biomedical science. Perspectives are individually-authored papers that do not reflect consensus positions of the NAM, the National Academies, or the authors' organizations. They are not reports of the National Academies.

Perspectives come in two forms: commentaries, or brief, op-ed-style opinion pieces; and discussion papers, lengthier peer-reviewed articles that present research, summarize literature, report on field activities, or consider approaches to progress. Authors are not paid, and submissions must be invited by the NAM.

Perspectives are intended to advance the field by spotlighting innovative ideas; sharing information, expertise, and best practices; and promoting dialogue and collaboration among stakeholders. They are frequently cited in media; referenced in academic publications; used as background documents for meetings; adopted in course materials or organizational toolkits; and used as position statements by stakeholder groups, among other outcomes. They are the #1 driver of traffic to NAM.edu.

For more information, contact Molly Doyle at mdoyle@nas.edu.
Found 239 Results
Page 15 of 48

Over the last 20 years, the United States has witnessed a shift from little readily available information about the performance of the health-care system to the use of a wide variety of measures in different ways by multiple entities. The explosion of performa ...
Authors: Peter J. Pronovost, J. Matthew Austin, Christine K. Cassel, Suzanne F. Delbanco, Ashish K. Jha, Bob Kocher, Elizabeth A. McGlynn, Lewis G. Sandy, and John Santa
Tags: Accountable Care, Health Data, Quality and Patient Safety, Vital Directions
September 19, 2016
---

As health-care spending has risen, employers have tried to alleviate the pressure on premiums and wages by increasing patients' cost-sharing at the point of service. Since 2010, deductibles have increased by 67% and premiums by 24% compared with only a 10% inc ...
Authors: Michael E. Chernew, A. Mark Fendrick, Sherry Glied, Karen Ignagni, Stephen Parente, Jamie Robinson, and Gail R. Wilensky
Tags: Accountable Care, Affordable Care Act, Coverage and Access, Vital Directions
September 19, 2016
---

Health and health care outcomes for Americans should be better for most, and much better for some. This should be possible with currently available knowledge and resources. Capturing the potential will require adapting our strategies and approaches to the real ...
Authors: J. Michael McGinnis, Donald M. Berwick, The Honorable Thomas A. Daschle, Angela Diaz, Harvey V. Fineberg, The Honorable William H. Frist, Atul Gawande, Neal Halfon, Risa Lavizzo-Mourey
Tags: Population Health, Public Health, Select Populations and Health Disparities, Vital Directions
September 19, 2016
---

Much discussion surrounds the question of the most appropriate strategies for bringing the power of science to bear on the nation's pressing problems. Some problems, such as an emerging infectious disease, are urgent and must be addressed immediately. Others, ...
Authors: Alan Leshner, Steven E. Hyman, and Story Landis
Tags: Neuroscience, Vital Directions
September 19, 2016
---

The phrase "democratizing health care" is gaining popularity in discussions about how technology is enabling consumers to better manage their health-related behaviors and to participate more fully in decisions about treatment. The effect is re-shaping the powe ...
Authors: George Flores
Tags: Community Health, Population Health
September 16, 2016
---
Page 15 of 48