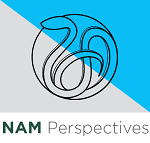 Perspectives
NAM Perspectives are expert commentaries and discussion papers by leading voices in health and health care.
Browse our latest Perspectives below.
About NAM Perspectives >>

The National Academy of Medicine's Perspectives platform extends the National Academies' convening and advising functions by providing a venue for leading health, medical, science, and policy experts to reflect on issues and opportunities important to the advancement of health, health care, and biomedical science. Perspectives are individually-authored papers that do not reflect consensus positions of the NAM, the National Academies, or the authors' organizations. They are not reports of the National Academies.

Perspectives come in two forms: commentaries, or brief, op-ed-style opinion pieces; and discussion papers, lengthier peer-reviewed articles that present research, summarize literature, report on field activities, or consider approaches to progress. Authors are not paid, and submissions must be invited by the NAM.

Perspectives are intended to advance the field by spotlighting innovative ideas; sharing information, expertise, and best practices; and promoting dialogue and collaboration among stakeholders. They are frequently cited in media; referenced in academic publications; used as background documents for meetings; adopted in course materials or organizational toolkits; and used as position statements by stakeholder groups, among other outcomes. They are the #1 driver of traffic to NAM.edu.

For more information, contact Molly Doyle at mdoyle@nas.edu.
Found 249 Results
Page 15 of 50

The US health-care delivery system is in the midst of a transformation. For generations, it was rooted in a transactional, fee-for-service ethos that rewarded mainly interventions to treat individuals for diseases. Today, it aims to emphasize improvement in an ...
Authors: Paul C. Tang, Mark D. Smith, Julia Adler-Milstein, Tom Delbanco, Stephen J. Downs, Giridhar G. Mallya, Debra L. Ness, Ruth M. Parker, Danny Z. Sands
Tags: Community Health, Health Care, health literacy, Population Health, Vital Directions
September 19, 2016
---

Health information technology (HIT) has been seen as a vehicle for improving the quality and safety of health care, for gaining more accountability and value in purchasing, for advancing the role and engagement of consumers in prevention and health decisions, ...
Authors: Jonathan B. Perlin, Dixie B. Baker, David J. Brailer, Douglas B. Fridsma, Mark E. Frisse, John D. Halamka, Jeffrey Levi, Kenneth D. Mandl, Janet M. Marchibroda, Richard Platt, and Paul C. Tang
Tags: Electronic Health Records, Health Data, Health IT, Quality and Patient Safety, Vital Directions
September 19, 2016
---

The increasingly complex health-care needs of the U.S. population require a new vision and a new paradigm for the organization, financing, and delivery of healthcare services. Some 5% of adults (12 million people) have three or more chronic conditions and a fu ...
Authors: David Blumenthal, Gerard Anderson, Sheila Burke, Terry Fulmer, Ashish K. Jha, and Peter Long
Tags: Accountable Care, Care Management, Health Care Reform, Vital Directions
September 19, 2016
---

Continuing to improve human health at reasonable costs is one of the biggest challenges facing society in the 21st century. Prior scientific advances have led to longer life expectancies, which in turn have led to the emergence of chronic diseases often relate ...
Authors: Elias Zerhouni, Jeremy Berg, Freeman A. Hrabowski, Raynard Kington, and Story Landis
Tags: Education, Health Care Workforce, Professional Development, Research Funding, Vital Directions
September 19, 2016
---

Health reform remains at the forefront of U.S. policy debates because of continued growth in public and private health care spending alongside increasing capabilities of medical care—as well as persistent evidence of inefficiencies and substantial variance in ...
Authors: The Honorable Michael O. Leavitt, Mark McClellan, Susan D. DeVore, Elliott Fisher, Richard J. Gilfillan, H. Stephen Lieber, Richard Merkin, Jeffrey Rideout, and Kent J. Thiry
Tags: Affordable Care Act, Competencies, Payment Reform, Vital Directions
September 19, 2016
---
Page 15 of 50