function OptanonWrapper() { }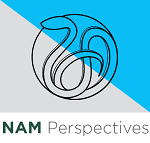 Perspectives
NAM Perspectives are expert commentaries and discussion papers by leading voices in health and health care.
Browse our latest Perspectives below and join the conversation online by using #NAMPerspectives!
ISSN 2578-6865
About NAM Perspectives >>

The National Academy of Medicine's Perspectives platform extends the National Academies' convening and advising functions by providing a venue for leading health, medical, science, and policy experts to reflect on issues and opportunities important to the advancement of health, health care, and biomedical science. Perspectives are individually-authored papers that do not reflect consensus positions of the NAM, the National Academies, or the authors' organizations. They are not reports of the National Academies.

Perspectives come in two forms: commentaries, or brief, op-ed-style opinion pieces; and discussion papers, lengthier peer-reviewed articles that present research, summarize literature, report on field activities, or consider approaches to progress. Authors are not paid, and submissions must be invited by the NAM.

Perspectives are intended to advance the field by spotlighting innovative ideas; sharing information, expertise, and best practices; and promoting dialogue and collaboration among stakeholders. They are frequently cited in media; referenced in academic publications; used as background documents for meetings; adopted in course materials or organizational toolkits; and used as position statements by stakeholder groups, among other outcomes. They are the #1 driver of traffic to NAM.edu.

For more information, contact Jenna Ogilvie at jogilvie@nas.edu.
Found 313 Results
Page 13 of 63

High obesity prevalence persists as a major issue for societies globally. Chronic overweight and obesity have high health, social, and economic costs, and the benefits of achieving and maintaining healthy weight for overall health and well-being are well estab ...
Authors: Shiriki Kumanyika
Tags: Food and Nutrition, Global Health, Longevity, Obesity, Population Health, Public Health
January 18, 2017
---

Obesity now affects 35 percent of men, 40 percent of women, and 17 percent of 2- to 19-year-old children and adolescents in the United States. Neither clinical nor environmental changes alone are sufficient to address a problem of this magnitude. We propose he ...
Authors: William H. Dietz, Brook Belay, Don Bradley, Scott Kahan, Natalie D. Muth, Eduardo Sanchez, and Loel Solomon
Tags: Children and Families, Food and Nutrition, Obesity, Population Health, Public Health, Social Determinants of Health
January 13, 2017
---

The Global Strategy for Health Workforce 2030 (WHO, 2016) outlines a set of milestones and strategies to expand and strengthen the health workforce that could better position countries to achieve universal health coverage and relevant sustainable development g ...
Authors: Zohray Talib, Bjorg Palsdottir, Marion Briggs, Amy Clithero, Nadia Miniclier Cobb, Brahmaputra Marjadi, Robyn Preston, and Sara Willems
Tags: Biomedical Science and Research, Coverage and Access, Global Health, Health Policy and Regulation, Preparedness and Response, Public Health, Public-Private Partnerships, Workforce
January 04, 2017
---
---

Responsibility for cognitive, affective, and behavioral (CAB) health of children and adolescents (hereafter "youth") has traditionally been shared among families, education systems, communities, and the health care delivery system. Within routine child health ...
Authors: Thomas F. Boat, Marshall L. Land, Laurel K. Leslie, Kimberly E. Hoagwood, Elizabeth Hawkins-Walsh, Mary Ann McCabe, Mark W. Fraser, Lisa de Saxe Zerden, Brianna M. Lombardi, Gregory K. Fritz, Bianca Kiyoe Frogner, J. David Hawkins, Millie Sweeney
Tags: Children and Families, Coverage and Access, Health Equity, Mental Health and Substance Use, Population Health
November 29, 2016
---
Page 13 of 63