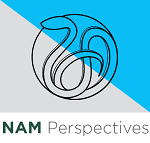 Perspectives
NAM Perspectives are expert commentaries and discussion papers by leading voices in health and health care.
Browse our latest Perspectives below.
About NAM Perspectives >>

The National Academy of Medicine's Perspectives platform extends the National Academies' convening and advising functions by providing a venue for leading health, medical, science, and policy experts to reflect on issues and opportunities important to the advancement of health, health care, and biomedical science. Perspectives are individually-authored papers that do not reflect consensus positions of the NAM, the National Academies, or the authors' organizations. They are not reports of the National Academies.

Perspectives come in two forms: commentaries, or brief, op-ed-style opinion pieces; and discussion papers, lengthier peer-reviewed articles that present research, summarize literature, report on field activities, or consider approaches to progress. Authors are not paid, and submissions must be invited by the NAM.

Perspectives are intended to advance the field by spotlighting innovative ideas; sharing information, expertise, and best practices; and promoting dialogue and collaboration among stakeholders. They are frequently cited in media; referenced in academic publications; used as background documents for meetings; adopted in course materials or organizational toolkits; and used as position statements by stakeholder groups, among other outcomes. They are the #1 driver of traffic to NAM.edu.

For more information, contact Molly Doyle at mdoyle@nas.edu.
Found 242 Results
Page 12 of 49

Health equity, the attainment of the highest level of health for all people, is yet to be realized for many populations in the United States. Health equity focuses on diseases and health care services, but is also broadly linked to social determinants, such as ...
Authors: Noreen Mokuau, Patrick H. DeLeon, Joseph Keawe'aimoku Kaholokula, Sade Soares, JoAnn U. Tsark, and Coti Haia
Tags: health equity, Select Populations and Health Disparities, Social Justice
October 31, 2016
---

Our perspective is grounded in the proposition that health equity should be central or more significant than any other concern, principle, criterion, or value when prioritizing a national scientific agenda, setting care goals, organizing research and evaluatio ...
Authors: Patrick H. Tolan, Velma McBride Murry, Angela Diaz, and Robert Seidel
Tags: health equity, Select Populations and Health Disparities, social determinants of health, Social Justice
October 24, 2016
---

Research regarding new treatments (drugs, biological products, and high-risk devices) often begins with a broad assessment of disease epidemiology, disease burden, and shortcomings of existing treatments. That research may draw from diverse data sources, inclu ...
Authors: Steven Galson and Gregory Simon
Tags: Drug Discovery and Development, Drug Research, Innovation, Pharmaceuticals
October 18, 2016
---

The National Academy of Medicine Perspective, Breaking the Culture of Silence on Physician Suicide, brought together four unique voices from surgery, nursing, medical training, and the clergy to consider what led Kaitlyn, a young medical student, to take her o ...
Authors: Elisabeth Poorman and Sandeep P. Kishore
Tags: Clinician Resilience, Clinician Well Being, Mental Health, Physician Suicide, Substance Abuse and Mental Health, Suicide
October 04, 2016
---

Increased sharing of health data among all stakeholders in the health system—from patients and advocates to health professionals and medical researchers—is essential for creating a learning health system. Such a system would leverage health data from a variety ...
Authors: Harlan M. Krumholz, Philip E. Bourne, Richard E. Kuntz, Harold L. Paz, Sharon F. Terry, and Joanne Waldstreicher
Tags: Continuously Learning Health System, Data Sharing, Health Data, Health IT, Vital Directions
September 19, 2016
---
Page 12 of 49