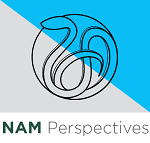 Perspectives
NAM Perspectives are expert commentaries and discussion papers by leading voices in health and health care.
Browse our latest Perspectives below.
ISSN 2578-6865
About NAM Perspectives >>

The National Academy of Medicine's Perspectives platform extends the National Academies' convening and advising functions by providing a venue for leading health, medical, science, and policy experts to reflect on issues and opportunities important to the advancement of health, health care, and biomedical science. Perspectives are individually-authored papers that do not reflect consensus positions of the NAM, the National Academies, or the authors' organizations. They are not reports of the National Academies.

Perspectives come in two forms: commentaries, or brief, op-ed-style opinion pieces; and discussion papers, lengthier peer-reviewed articles that present research, summarize literature, report on field activities, or consider approaches to progress. Authors are not paid, and submissions must be invited by the NAM.

Perspectives are intended to advance the field by spotlighting innovative ideas; sharing information, expertise, and best practices; and promoting dialogue and collaboration among stakeholders. They are frequently cited in media; referenced in academic publications; used as background documents for meetings; adopted in course materials or organizational toolkits; and used as position statements by stakeholder groups, among other outcomes. They are the #1 driver of traffic to NAM.edu.

For more information, contact Molly Doyle at mdoyle@nas.edu.
Found 251 Results
Page 11 of 51

Over the past 50-60 years, biomedical science and technology in the United States have advanced at a remarkable pace, allowing Americans to live longer, healthier lives. And while we have gained tremendous benefit from continuous medical innovation, health car ...
Authors: Mark B. McClellan, David T. Feinberg, Peter B. Bach, Paul Chew, Patrick Conway, Nick Leschly, Greg Marchand, Michael A. Mussallem, and Dorothy Teeter
Tags: Accountable Care, Affordable Care Act, Coverage and Access, Vital Directions
March 17, 2017
---

Health care professionals, including emergency response personnel, face unique occupational health and safety challenges, one of which is exposure to uncontrolled airborne infectious particles. To protect themselves, these professionals rely heavily on N95 fil ...
Authors: Mark Shirley, Linda Hawes Clever, David J. Prezant, and Kerri Rupe
Tags: Health Care Workforce, Quality and Patient Safety
March 17, 2017
---
---

Help us share this discussion paper by using our social media toolkit. Participants and other stakeholders in today's U.S. health care system are striving for the generation of new knowledge to guide care while at the same time they are also managing growing c ...
Authors: Richard Platt, Kathleen Blake, Patricia Franklin, J. Michael Gaziano, Robert Harrington, Adrian Hernandez, Rainu Kaushal, Andrew Masica, Janice Nevin, John Rumsfeld, and Marianne Hamilton Lopez
Tags: Continuously Learning Health System, Leadership Consortium, Learning Health System
March 06, 2017
---

View the framework | Social media toolkit  Patient and family engaged care (PFEC) is care planned, delivered, managed, and continuously improved in active partnership with patients and their families (or care partners as defined by the patient) to ensure integ ...
Authors: Susan B. Frampton, Sara Guastello, Libby Hoy, Mary Naylor, Sue Sheridan, and Michelle Johnston-Fleece
Tags: Leadership Consortium, Patient and Family Engaged Care
January 31, 2017
---
Page 11 of 51