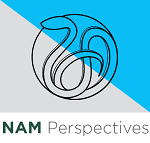 Perspectives
NAM Perspectives are expert commentaries and discussion papers by leading voices in health and health care.
Browse our latest Perspectives below.
About NAM Perspectives >>

The National Academy of Medicine's Perspectives platform extends the National Academies' convening and advising functions by providing a venue for leading health, medical, science, and policy experts to reflect on issues and opportunities important to the advancement of health, health care, and biomedical science. Perspectives are individually-authored papers that do not reflect consensus positions of the NAM, the National Academies, or the authors' organizations. They are not reports of the National Academies.

Perspectives come in two forms: commentaries, or brief, op-ed-style opinion pieces; and discussion papers, lengthier peer-reviewed articles that present research, summarize literature, report on field activities, or consider approaches to progress. Authors are not paid, and submissions must be invited by the NAM.

Perspectives are intended to advance the field by spotlighting innovative ideas; sharing information, expertise, and best practices; and promoting dialogue and collaboration among stakeholders. They are frequently cited in media; referenced in academic publications; used as background documents for meetings; adopted in course materials or organizational toolkits; and used as position statements by stakeholder groups, among other outcomes. They are the #1 driver of traffic to NAM.edu.

For more information, contact Molly Doyle at mdoyle@nas.edu.
Found 249 Results
Page 10 of 50

Now more than ever is the time for occupational therapy educators, students, and practitioners to invest in strategies to combat burnout and stress. Current health care practice requires occupational therapy practitioners to manage many dimensions of patient c ...
Authors: Emily Zeman and Neil Harvison
Tags: Clinician Resilience, Clinician Well Being
March 24, 2017
---

Burnout, depression, and suicidal ideation are key areas of concern because of the consequences they can have on physicians as well as the patients for whom they care. The level of burnout in the medical profession has increased at an alarming rate in the past ...
Authors: Robert G. G. Piccinini, Kenya D. McRae, John W. Becher, Anna Z. Hayden, Caleb B. Hentges, Angela Kalcec, Pooja Kinkhabwala, Vanessa W. Halvorsen, Adrienne White-Faines, and David Escobar
Tags: Clinician Resilience, Clinician Well Being
March 24, 2017
---

The United States is poised at a critical juncture in health and health care. Powerful new insights are emerging on the potential of disease and disability, but the translation of that knowledge to action is hampered by debate focused on elements of the Afford ...
Authors: Victor J. Dzau, Mark McClellan, Sheila Burke, Molly J. Coye, Thomas A. Daschle, Angela Diaz, William H. Frist, Martha E. Gaines, Margaret A. Hamburg, Jane E. Henney, Shiriki Kumanyika, Michael O. Leavitt, J. Michael McGinnis, Ruth Parker, Lewis G. Sandy, Leonard D. Schaeffer, Glenn D. Steele, Pamela Thompson, Elias Zerhouni
Tags: Accountable Care, Affordable Care Act, Coverage and Access, Health Care Workforce, Health Services, Population Health, Public Health, Vital Directions, Vital Directions for Health and Health Care
March 21, 2017
---

Over the past 50-60 years, biomedical science and technology in the United States have advanced at a remarkable pace, allowing Americans to live longer, healthier lives. And while we have gained tremendous benefit from continuous medical innovation, health car ...
Authors: Mark B. McClellan, David T. Feinberg, Peter B. Bach, Paul Chew, Patrick Conway, Nick Leschly, Greg Marchand, Michael A. Mussallem, and Dorothy Teeter
Tags: Accountable Care, Affordable Care Act, Coverage and Access, Vital Directions
March 17, 2017
---

Health care professionals, including emergency response personnel, face unique occupational health and safety challenges, one of which is exposure to uncontrolled airborne infectious particles. To protect themselves, these professionals rely heavily on N95 fil ...
Authors: Mark Shirley, Linda Hawes Clever, David J. Prezant, and Kerri Rupe
Tags: Health Care Workforce, Quality and Patient Safety
March 17, 2017
---
Page 10 of 50