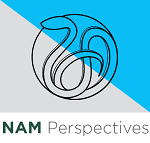 Perspectives
NAM Perspectives are expert commentaries and discussion papers by leading voices in health and health care.
Browse our latest Perspectives below.
Perspectives are not reports of the NAM or the National Academies of Sciences, Engineering, and Medicine and therefore are not subject to their review processes.
Found 207 Results
Page 1 of 42

As we outlined in the previous paper in this series, our nation needs foundational data in order to understand how social, physical, chemical, and nutritional environments interact to impact how Americans grow, live, and prosper. To satisfy this need, we propo ...
Authors: Greg Duncan, Virginia Lesser, Barbara Entwisle, Graham Kalton, Andy Shih, Elaine Faustman, Rosalind Wright, Kerry Anne McGeary, Richard Gershon, Steven Wysmuller, Shelley Merritt, and Charlee Alexander
May 31, 2016
---
---

Social determinants of health, a short phrase that captures a broad array of issues, are some of the key reasons why health care reform alone will not eliminate health disparities in the United States. Social problems, such as food security, housing, and emplo ...
Authors: Eric W. Fleegler, Clement J. Bottino, Aaron Pikcilingis, Beth Baker, Emmett Kistler, and Areej Hassan
Tags: health equity, Population Health, Public Health, Select Populations and Health Disparities, Technology
May 27, 2016
---

Increasingly over the past decade, health literacy researchers and practitioners have been turning their attention to issues of numeracy, recognizing that numeric tasks related to a wide array of health activities have not been sufficiently examined or address ...
Authors: Rima E. Rudd
Tags: health literacy, numeracy, Population Health, Public Health
May 17, 2016
---

Tobacco use remains the leading cause of preventable premature death and illness in Denver. Specifically, tobacco is a major contributor to four of the top 10 leading causes of death in Denver: cardiovascular disease, cancer, chronic lung disease, and influenz ...
Authors: Tracey A. Richers Maruyama, Theresa Mickiewicz, Ava Cannon, Teddy Montoya, Santos Diaz, Erica Berg, Daniel Kortsch, Ali Zirakzadeh, and Judith C. Shlay
May 06, 2016
---
Page 1 of 42