Cecil Award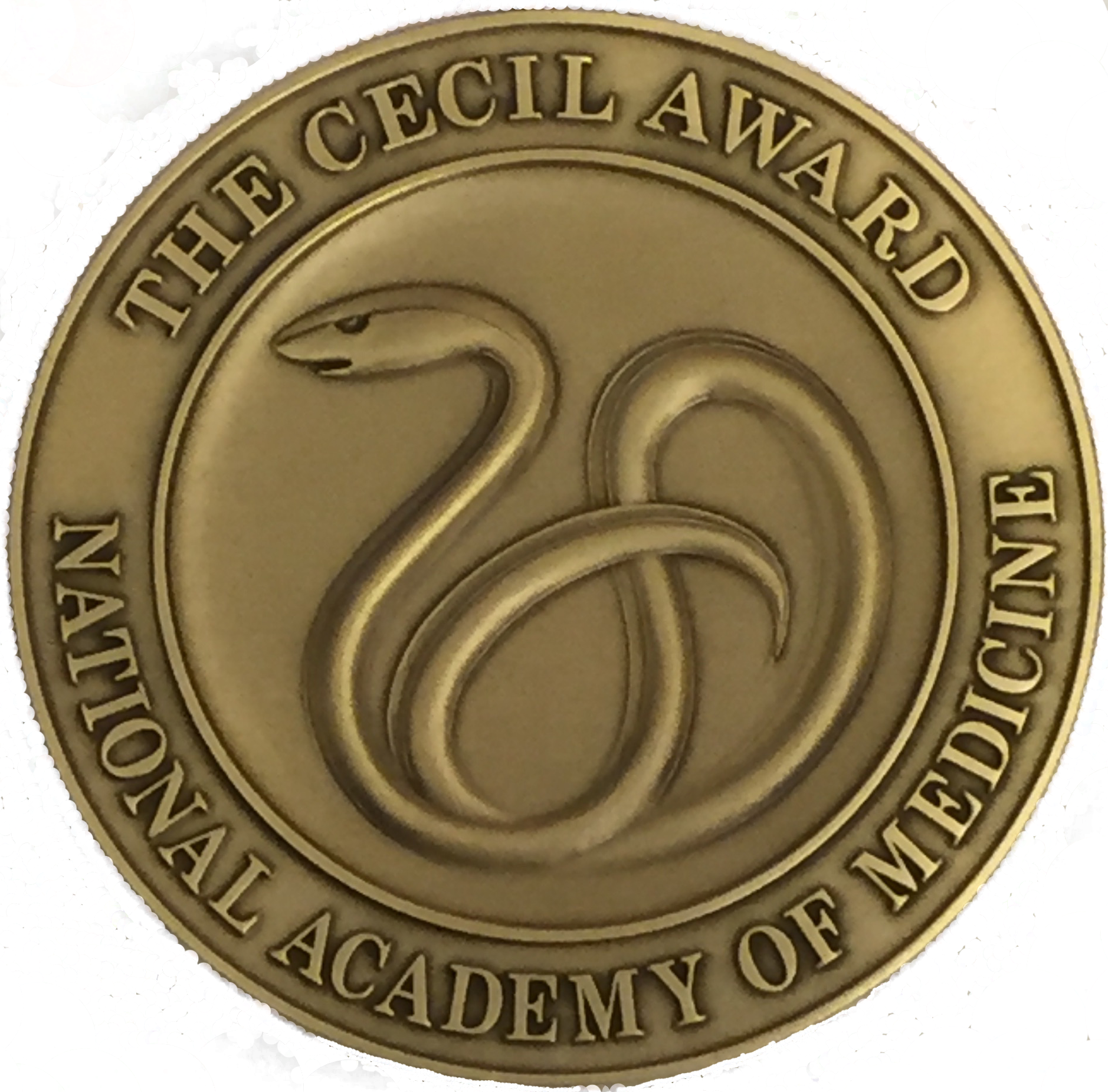 Each year, the NAM presents three Cecil Awards, recognizing and celebrating current and/or recent staff whose sustained service has contributed importantly to progress toward the NAM Mission – to improve health for all by advancing science, accelerating health equity, and providing independent, authoritative, and trusted advice nationally and globally. Each Award is accompanied by $4,000, a commemorative medal and certificate presented by the NAM President.
All current and former staff members with more than three years of service are eligible for these distinguished staff awards.
The 2018 Cecil Awards were presented during the NAM's Annual Meeting in Washington, DC, on October 15, 2018.
2018 Recipients:
Sandra H. Matthews Cecil Award for Administrative Excellence:
Morgan Kanarek
Chief of Staff
National Academy of Medicine
Cecil Award for Individual Excellence:
Amy Geller
Senior Program Officer
Health and Medicine Division, National Academies 
Cecil Award for Excellence of a Group/Team:
Elle Alexander, Heather Cook, Cypress Lynx, Amanda Nguyen, and Leslie Sim
Roundtable on Obesity Solutions Team
Health and Medicine Division, National Academies
Past Recipients

2017
Cecil:  Marie Michnich

2016
Cecil: Judith Shamir

2015
Research Cecil: Bridget Kelly
Sandra H. Matthews Cecil: Yumi Phillips
Wildcard Cecil: Alina Baciu

2014
Research Cecil: Mary Burr Paxton
Sandra H. Matthews Cecil: Thelma Cox
Wildcard Cecil: Guru Madhavan

2013
Research Cecil: Abigail Mitchell
Sandra H. Matthews Cecil: Pamella Atayi
Wildcard Cecil: Katharine Bothner

2012
Research Cecil: Bruce Altevogt
Research Cecil: Lynn Parker
Sandra H. Matthews Cecil: Judith Shamir

2011
Research Cecil: Roberta Wedge
Sandra H. Matthews Cecil: Anton Bandy
Wildcard Cecil: Linda Meyers

2010
Research Cecil: Rosemary Anne Chalk
Research Cecil: Rose Marie Martinez
Sandra H. Matthews Cecil: Geraldine Kennedo

2009
Administrative Cecil: Gary Walker
Wildcard Cecil: Andrea Schultz
Wildcard Cecil: Janice Mehler

2008
Research Cecil: Ann Yaktine
Research Cecil: David Butler
Wildcard Cecil: Christine Stencel

2007
Research Cecil: Sharyl Nass
Administrative Cecil: Danitza Valdivia
Wildcard Cecil: Carolyn Fulco

2006
Research Cecil: Lyla Hernandez
Program/Management Cecil: Donna Duncan
Wildcard Cecil: Jim Banihashemi

2005
Research Cecil: Lois Joellenbeck
Program/Management Cecil: Roger Herdman
Wildcard Cecil: Cathy Liverman

2004
Research Cecil: Marilyn Field
Administrative Cecil: Linda Kilroy
Wildcard Cecil: Andy Pope

2003
Research Cecil: Brian Smedley
Administrative Cecil: Janet Stoll
Wildcard Cecil: Karl Yordy

2002
Research Cecil: Kathleen Stratton
Administrative Cecil: Sandra Matthews
Wildcard Cecil: Janet Corrigan

2001
Research Cecil: Gooloo Wunderlich
Administrative Cecil: Sue Barron
Wildcard Cecil: Clyde Behney

2000
Research Cecil: Sarah Brown
Administrative Cecil: Jana Surdi
Wildcard Cecil: Joe Cassells